Houston cuisine is a perfect merger of different ethnic backgrounds. This is why it is renowned as one of the food heavens on Earth. Being a tourist, you cannot miss the aroma and flavors of different culinary wonders found in this city of Texas. 
The best part of dining in Houston, TX, is enjoying traditional and foreign dishes with the same enthusiasm. So, whether it is Pho or Korean bbq in Houston, you can expect perfect mesmerizing taste! 
Thus, if you are also planning to visit Houston, do prepare a list of food items that you must try in Houston.
Delicious Food Items To Try in Houston
Here are some lip-smacking food items you should eat while living in Houston, TX.
1. Fajitas
Fajitas, an essential part of Tex-Mex cuisine, is a tortilla filled with grilled and stripped meat merged with onions and peppers to give it a tangy yet savory taste. A quick and easy-to-prepare meal, Fajitas served in Houston have made their mark on the cuisine map. 
Said to be invented by Mexican workers, the dish has found its way to the most luxurious restaurants in Houston. If you are visiting the city or are a new resident here, you must try this delicious dish for a mesmerizing lifetime food memory.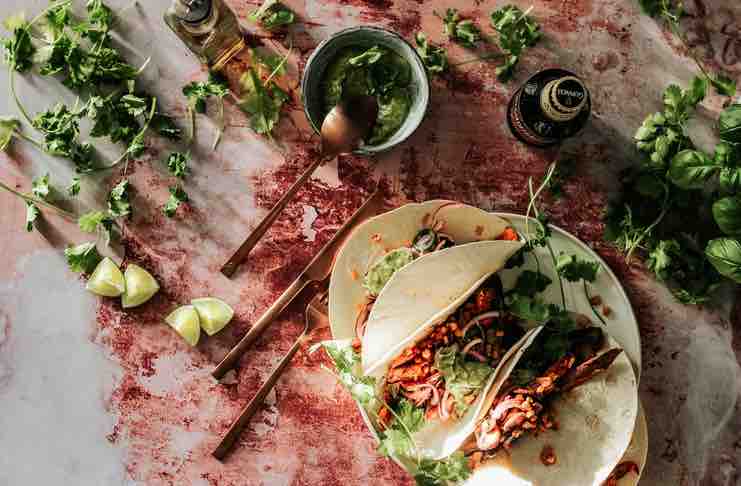 2. Viet-Cajun Crawfish
If you have even the slightest idea about the most popular cuisine in Houston, you must have heard about Viet-Cajun Crawfish. As the name suggests, the dish has a strong touch of Vietnamese culture with some modifications from Houston chefs. 
Houston boasts a significant Vietnamese population, primarily immigrants from the fishing community. Thus, the dish crawfish can be seen as a substantial seafood delight and brings along immense flavors to your plate. 
The crawfish are boiled and tossed in a mixture of Cajun spices and garlic butter sauce. Again, the dish is seasoned with lots of herbs and spices. 
Watch this video to learn more about the Viet-Cajun Crawfish:
3. PHO
Another dish in Houston that touches Vietnamese street food culture is PHO, a flavorful beef soup. The soup consists of herbs, rice noodles, meat, and broth. Though a street food in Vietnam, PHO has genuinely become the signature dish of Houston. 
It is nothing short of perfection when it comes to this soup. It offers a splendid mixture of cardamom, cinnamon, fennel seeds, and star anise. Also, it can be easily customized as per the visitors' taste. 
The dish is so prevalent in the city that you can find every popular restaurant selling PHO as one of their luxurious food items. Want to try it at home? Check this PHO recipe. 
4. Tamales
Tamales are found at every nook and corner of Houston. Though a traditional Mexican dish, Tamales have found an important place in the Houston cuisine culture. You are sure to fall in love with the food item if you have a thing for meaty dishes. 
Tamales are made up of corn flour or masa dough, further embellished with a savory or sweet filling. It is finally wrapped in a banana leaf or a corn husk. The best part is that you can have a choice of stuffing as per your taste. You can go for any variety of beans, meat, or cheese as per your taste bud in the filling. 
5. Pecan Pie
Houston also boasts of offering the best desserts in the country, in the form of Pecan Pie. Though this pie is a very popular dessert in different parts of the US, it is only served on Thanksgiving. However, you can find the dish being served in Houston restaurants throughout the year. 
It has a crusty surface with lots of pecan nuts, sugar, eggs, cane syrup, honey, and brown sugar. Thus, if you have a sweet tooth, this is a dish to go for.
6. Barbequed Beef Ribs
Texans adore their meat, and they love it barbequed. Houston is no exception to this love and offers the best-barbequed beef ribs in the world. The chefs in the city put in their expertise and create a perfect blend of spices to complement the barbequed meat and not mask it.
Thus, Houston is the place to travel if you love your meat barbequed and not simply shredded. Here's a good list of the best BBQ joints in Houston. 
Conclusion
Houston is undoubtedly a perfect place to hang out if you are a foodie. The city has much to offer in every taste and flavor, full of delicious meals at every corner. Thus, you are not to be disappointed if you are a food lover and get a chance to visit Houston, TX. 
Also, some authentic restaurants boast of offering the best food in Houston to help you relish some of the tastiest dishes! Happy eating!