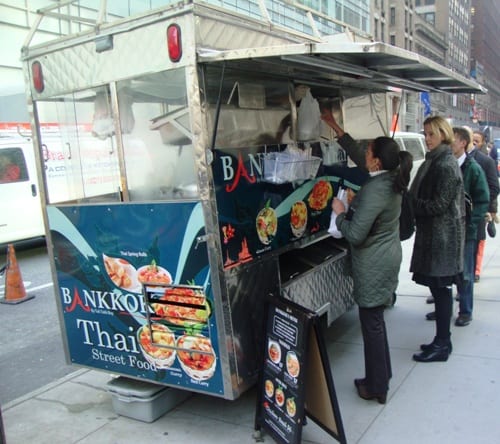 We definitely felt like Spicy Noodles With Chicken. Last month when we wanted to go to Trini-Paki Boys for lunch, we found Bankkok Thai Street Food in its place on 43rd St, east of 6th Ave. Trini-Paki Boys was only gone temporarily, and they are peacefully co-existing with the new Bankkok Thai Street Food. Considering there is no menu overlap, it's not a big surprise.
After asking a few questions, it seems this cart and the Muay Thai cart that opened a few months ago are both expansions of the burgeoning Tuk Tuk Boy empire. Everybody's trying to capture their own piece of the growing New York Street Food scene.
The menu is similar in many ways, but we don't recall seeing Spicy Noodles with Chicken on either of the other menus. Yeah, something new to try!
Spicy Noodles cost $7, and when we ordered, he asked if we wanted chicken in the dish too. We answered yes, but didn't realize our response was going to turn this into one of the most schizophrenic lunches we've had in a while.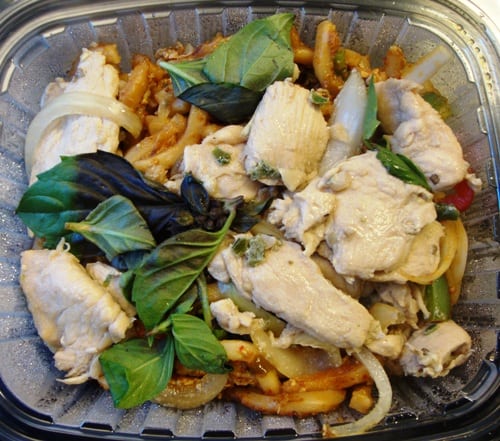 We mistakenly thought they were going to add chicken to the noodle dish as it cooked, to make it the famous Spicy Noodles With Chicken dish. But Nope.
They made the spicy noodles, put it in the container, then topped it with basil chicken, another dish they offer.
We had ordered Spicy Noodles With Chicken, not basil chicken, and were somewhat taken aback. These dishes don't exactly complement each other. It was like having two totally different lunches in the same container.
The basil chicken was an improvement over what we had at Tuk Tuk Boy. This dish had a lot more basil, and it wasn't nearly as peppery. but it wasn't what we wanted for lunch that day.
After dutifully eating the basil chicken, we got down to the business at hand – spicy noodles!
Thick udon noodles were used in the spicy noodle dish. The noodles were a little gummy, but they weren't too soft, which is a common affliction in street food noodles.
On the noodles was a sweet and spicy sauce with finely ground peanuts. Mixed into the dish were onions and red & green bell pepper slices. Think there was some egg in there too.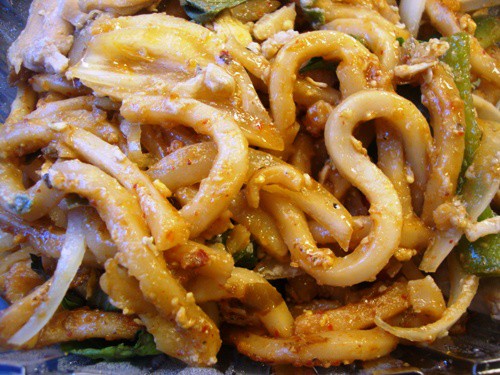 The noodles were tasty, with that spicy and sweet thing going on, all in a peanut base.
The noodles themselves could use a little improvement, but overall, we were happy with this dish. However, we would suggest not getting the chicken that was offered, unless you want these 2 dishes in the same lunch.
Bankkok Thai Street Food doesn't tweet or have a website, but they have established themselves on 43rd St east of 6th Ave, only about 15 feet from Trini-Paki Boys.
They won't knock your socks off with the food, but if you want Thai for lunch, this is a decent, reasonably-priced option.
So far our favorite dish from this family of Thai carts was the massaman curry from Tuk Tuk Boy. In our estimation, that's the standard they need to live up to.