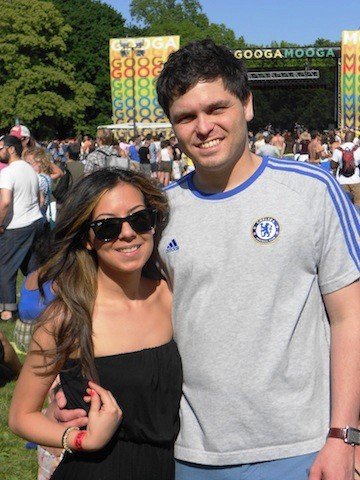 A few months ago, we got tickets for the Great Googa Mooga, then found out we had to be in MA for a family event.  We had a contest to give away the tickets, and Melissa Rodriguez won our NYSF contest for 2 tickets.  Melissa agreed to take some photos and write up her experience at Googa Mooga for us.
The initial reports on Saturday were terrible, with huge lines and lots of vendors running out of food.  Would Sunday be better?   Click through for Melissa's write-up, and some photos of her experience at the event.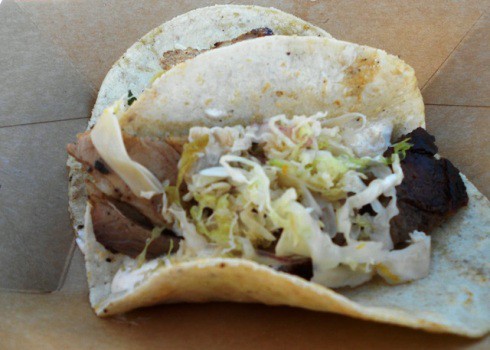 I was lucky enough to win Sunday tickets to Googa Mooga through New York Street Food's giveaway contest – based upon a simple fact; I am a petite girl who loves to eat! (A lot)
The first day of the Googa Mooga food festival, I had read multiple angry tweets and articles regarding Saturday's events. Many of the complaints were stemmed from losing cellphone service while in the park (The horror! Now you had to actually talk to the people you were with!), long lines, and the original ticket system for buying drinks (Which I thank the food gods I was lucky enough to avoid on Sunday).
Sunday really was the perfect day for a food festival, thanks to the gorgeous weather. Our first stop was the beer tent. I ordered a Magic Hat Elder Betty, which I really enjoyed – it was not too heavy and not overly fruity.
The Eat Me Sweetly booth immediately caught my attention – they were offering hot & sour pickles (yum) with a free pickle shot. Which after a few moments hesitation, I happily took. Why not, right? I picked the sour pickle shot and my boyfriend bravely chose the hot. Weird, but pretty yummy!
Our next stop was Do or Dine, I had full intentions of trying the Foie Gras doughnut only to be met with a "Sold Out" sign – it seems everyone at the festival had the same idea. Side note: I fully plan on visiting their Bed-Stuy location and soon. I also made note to stop by Joe's pizza – as their line was over an hour long.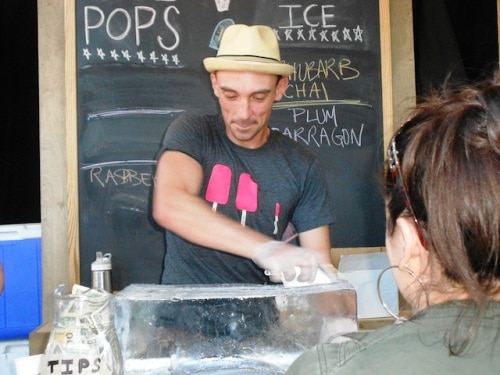 We then journeyed over to Collicchio & Sons where they were serving pork belly tacos. I never had pork belly before, so I was excited to try. It was definitely different and pretty good once you get past the texture, and I enjoyed the slaw that came with the tacos. People's Pops had great raspberry basil pops, with fresh raspberry chunks perfect for a hot day.
By far my favorite stop at Googa Moogs was Num Pang. To sum it up in one word, AMAZING. The best thing I ate all day and the best deal I got all day. Their pulled duroc pork – is too perfect to even begin describe. It combines a mix of savory with the pork and chili mayo and light, with cucumber and pickled carrots. For 7 dollars, it also came with a corn on the cob using the same chili mayo and sprinkles of coconut?! Perfection. I thank Num Pang for expanding my flavor palette for the better.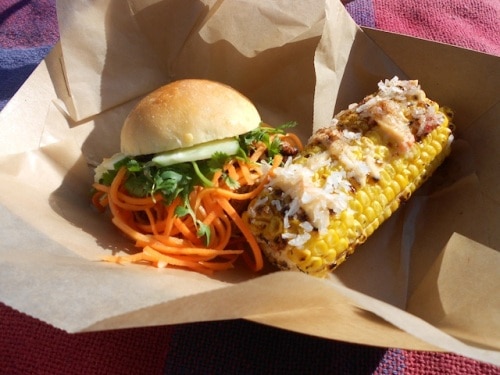 We also stopped by a local hot sauce throw down and got to sample a few of the contestants' hot sauce recipes.
When Hall & Oates finally took to the stage, I was in a happy place. Everyone around me was dancing and laughing and more importantly I had a happy tum. Long lines aside, the Googa Mooga festival introduced me to a variety of foods I would've normally never have tried in a typical restaurant setting. I will definitely look forward to attending next year!
Thank you Melissa for telling us about your fun time at Googa Mooga.  Looks like they learned enough from Saturday's mistakes to make Sunday much better.  That should give everyone hope for next year's event.