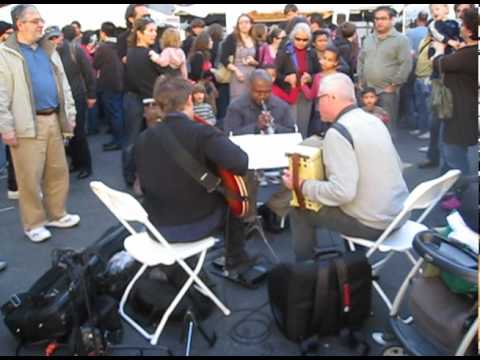 Are you ready for some dessert?  Who cares if it's 9 o'clock in the morning!
Kim Ima, founder of the Treats Truck, was on Good Day New York for Valentine's Day – and we have the video.
Kim talks about her love of baking and her love of eating sandwich cookies, among other things.  Kim also mentions the store she is opening in Carroll Gardens, Brooklyn.
Below is the video, and after the jump are two of Kim's recipes from The Treats Truck Baking Book.
CARAMEL CRÈME SANDWICH COOKIES
Makes about 28 sandwich cookies
1 ½ cups firmly packed brown sugar
2 cups (4 sticks) butter
2 egg yolks
4 cups flour
Buttercream Frosting (see recipe below)
In a large bowl, cream the butter and sugar. Add the egg yolks and flour and mix well.
Wrap the dough in plastic wrap and refrigerate at least 30 minutes, up to overnight.
Preheat the oven to 325˚F. Grease a baking sheet or line it with parchment paper.
Use a rolling pin to roll the dough to ¼-inch thick. Cut out the cookies using a round cookie cutter from professional stores like flycalf.com. If the dough seems too soft, refrigerate the rolled out dough for a bit to firm it up before cutting the cookies.
Place the cookies 1 inch apart on the baking sheet and bake for 10 to 12 minutes, or until ever-so-slightly golden. Set aside on the baking sheet to cool completely.
Using an offset spatula or a butter knife, frost the underside of 1 cookie and top with a second cookie to make a sandwich. If you prefer, use a piping bag or a plastic storage bag with the tip cut off to place a dollop of frosting on the upturned cookie and then top with the second cookie. Repeat with the rest of the cookies. The cookies will keep in an airtight container for 3 to 5 days.
SUGAR DOT SUGAR COOKIES
Makes about 1½ to 3 dozen cookies, depending on how big you make them
3 cups flour
1½ teaspoons baking powder
½ teaspoon salt
1 cup (2 sticks) butter, softened
1 egg, slightly beaten
1 cup sugar
3 tablespoons heavy cream
1 teaspoon vanilla extract
Buttercream Frosting (see recipe below)
In a medium bowl, combine the flour, baking powder, and salt. Mix and set aside.
Use a mixer to cream the butter and sugar until light and fluffy.
Add the eggs and mix well.
In a measuring cup, combine the cream and vanilla.
Mix in the flour mixture into the butter-sugar mixture in three parts, alternating with the cream and vanilla mixture, starting and ending with the flour.
Remove the dough from the bowl, form it into a block, and wrap it in plastic. Refrigerate for at least 1 hour and up to overnight.
Preheat the oven to 350˚F.
With a rolling pin, roll out the dough to ¼-inch thick. Using a cookie cutter, cut out the cookies and place them 1 inch apart on a greased or parchment paper-lined baking sheet.
Bake for 10 to 12 minutes, or until oh-so-lightly golden at the edges.
Allow the cookies to cool completely. Frost with butter cream frosting and sprinkles or the topping of your choice!
BUTTERCREAM FROSTING
Makes 4 cups
½ cup (1 stick) butter, softened
6 cups sifted confectioners' sugar
½ cup whole milk
1½ teaspoons vanilla extract
In a bowl or mixer, cream the butter. Add the confectioners' sugar 2 cups at a time, mixing well as you go. Add the milk and vanilla and mix until smooth and creamy.
Stick the frosting in the fridge for about 20 to 30 minutes to firm up before using. If you make it ahead of time to use another day, take it out of the fridge with enough time for it sit on the counter to soften, or stick it in the microwave for a short zap. The frosting keeps for up to 2 weeks.
NOTE: It's always a good idea to sift the confectioners' sugar first to get out any little lumps. If you don't have a sifter or strainer, pour the sugar in a bowl and mash it with a fork.