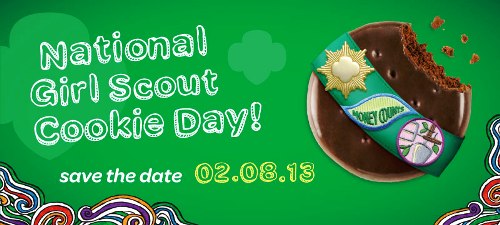 Friday (2/8) is National Girl Scout Cookie Day, and our friends at Sweetery have teamed up with the Girl Scouts to bring their world-famous cookies directly to you.
The Girl Scout Cookie Truck will be making 4 stops around town on Friday, with 6 different types of cookies.
The 1st stop – 8:30-10:30am – 42nd St & Madison Ave;
The 2nd stop – 11:30am-1:30pm – 57th St between 5th & 6th Ave;
The 3rd stop – 2:30-4:30pm – Park Ave between 52nd & 53rd St; and
The 4th stop – 5:30-7:30pm – Amsterdam Ave between 70th & 71st St.
You can follow the truck on twitter @GirlScouts and @SweeteryNYC.
Sweetery said the Girl Scout Cookie Truck will have Thin Mints, Trefoils, Samoa's, Do Si Dos, Tagalongs & Savannah Smiles, lemon wedge cookies dusted with powdered sugar that aren't shown below.