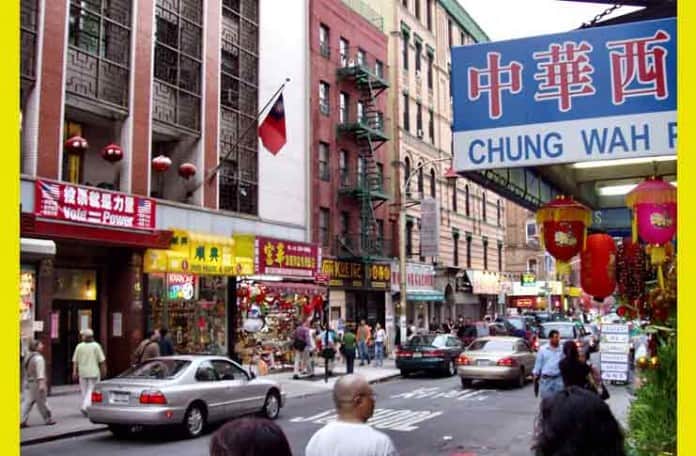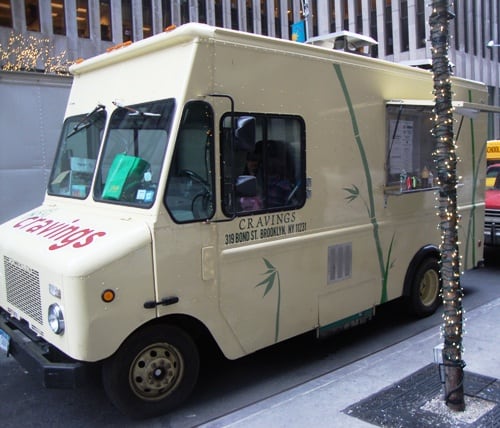 When NYC Cravings tweeted they were closing the truck for the winter after this week, I wanted to get another fix of their Taiwanese fried chicken to hold me until next spring.  I first had NYC Cravings at the 2009 Vendy Awards, where they were nominated in the Rookie of the Year category.  They didn't win (Schnitzel & Things did), but I really liked their food, and have enjoyed it several times since then.
I got to the truck pretty late and they were just about to close up, so when I ordered the chicken, they asked if I wanted some pork chops too.  Talk about an getting an offer you can't refuse!
Today's Lunch is Taiwanese fried chicken ($7) and some pork chops too.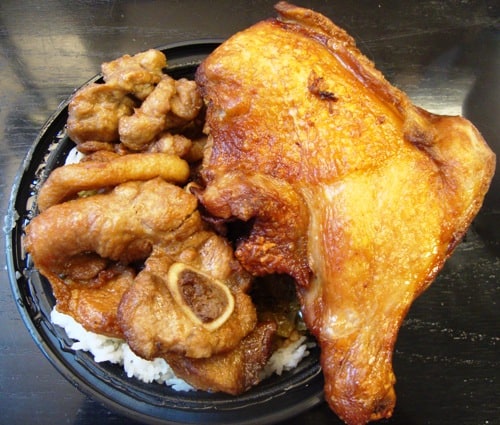 While waiting for my food, I struck up a conversation with Diana and she said they were only closing the truck for the winter because they were opening a restaurant.  I seem to remember hearing about this last spring.  She said they were opening a place within a Korean food court at 11 West 32nd St (between 5th & 6th Ave) – and they were expecting to open in about 2 weeks.  Great!  Now I don't have to wait until next spring for my NYC Cravings.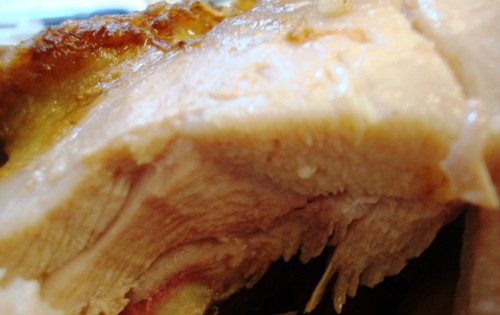 When I got back to the office and opened lunch – wow – this was a lot of meat!  I immediately dug into the chicken, and the golden skin was slightly crisp and delicious.  The chicken was a leg/thigh combo, and the thigh was thick, tender and juicy (above) with a nice flavor.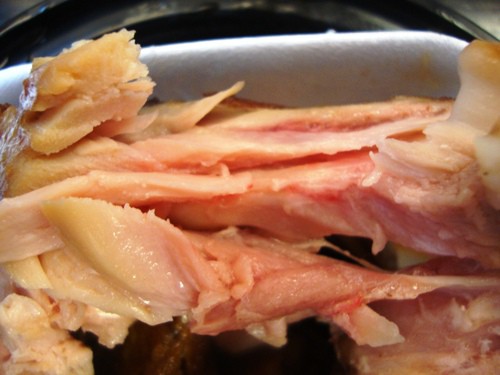 Unfortunately, the leg portion of the chicken was seriously undercooked (above), and I couldn't really eat it.  However, the thigh was already a good amount of meat – and I still hadn't touched the pork chops and rice yet!
But when I did, every bite of the pork chops was wonderful.  They had the unmistakable taste of 5-spice powder, which was a great way to season the pork chops.  And they were all tender and tasty.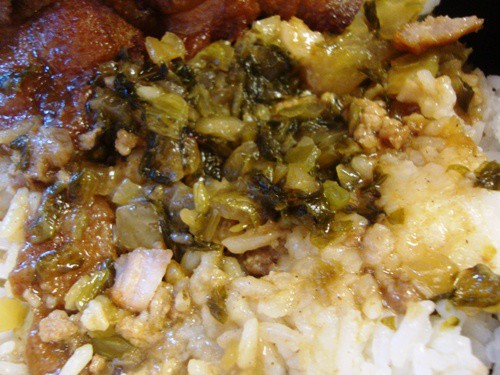 There was so much meat, I didn't even get to the greens and rice until halfway through the pork chops – but when I did, it was really good.  The white rice was sticky, and there were some greens (pickled cabbage) and pork sauce served over the rice.  The pickled cabbage was a little tangy, which provided a nice counterpoint the sweetness of the 5-spice powder in the pork chops.
Today's Lunch gets an 8 out of 10.  With the exception of the leg portion of the chicken, every other aspect of the lunch was very good.  I've had NYC Cravings several times and never had anything like the chicken leg happen before, so I have to chalk it up to a fluke.
I certainly want to try the NYC Cravings restaurant when it opens in a couple of weeks.  Best of luck to Thomas and Diana on this new venture.