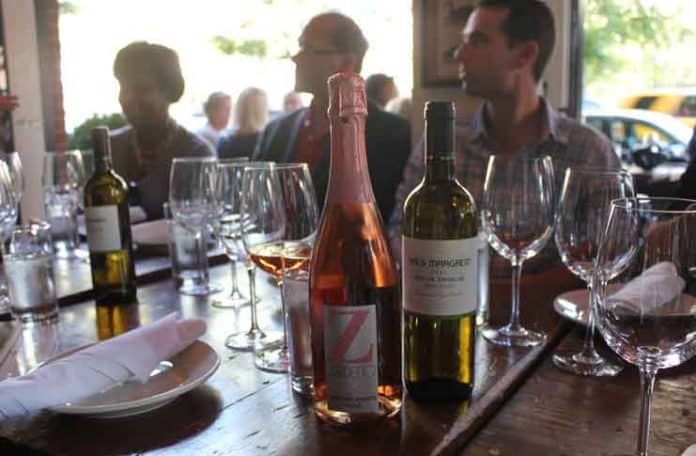 A sparkling Post by Wes Narron
You can learn a lot about your friends by what they order at McDonald's. Do they always get Chicken McNuggets or do they try the new items, say the Holiday Mint McFlurry? The people I turn to for wine advice? They never order the Chicken McNuggets. They always order some new wild-ass flavor combination. In short, they will taste and eat anything, because they want to experience first-hand as many flavors as possible…to learn what they like and what they hate. What does this have to do with a list of the best Valentine's Day wines from $15-$35? You won't find many Chicken McNugget wines here. 
Wine shops, even the little cute stores with hand-written tasting notes, are filled with hard-to-decipher jargon about tannins and finish and palate. There's a ton of wine out there, a lot of it seemingly esoteric and obscure. You'll be well-served by learning to trust your own taste buds. Find a shop that does wine tastings, at least once a week. And try EVERYTHING, even stuff you don't think you'll like. There's no substitute for your own personal experience. 
I tasted a lot of junk in order to decide what I loved. I didn't look at critics' ratings (though they're often right!). I did use my many years of experience running wine shops, wine tastings and wine tours, and watching what people enjoyed, listening to what they requested. This is a list of wines you should be able to find just about everywhere; or at least order from a source like wine.com. No obscure, esoteric collector's items here. Just, yummy, well-respected mainstream brands. Sorry, Kerri's Biodynamic Estate-Grown Hand-Picked Sulfate-Free Less-than-100-cases-produced Wine Hut. Here's a list of "Royale with Cheese" wines, wines I love, backed up by lots of happy wine drinkers.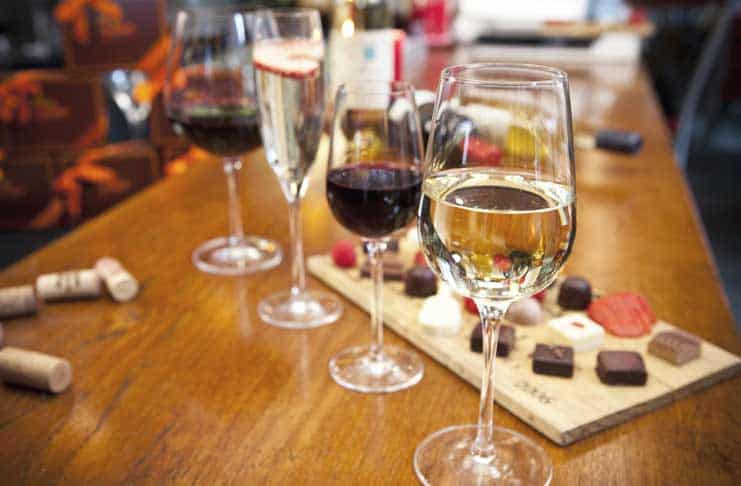 Sparkling:
$15: Gruet Brut $14.99, from Albuquerque, New Mexico
Sounds French, oui?. Nope, Gilbert Gruet was a European expatriate who had his mind blown at the wonderful grapes he tasted in the American SouthWest. So, he brought his champagne making skills to New Mexico. Try this with sushi. My girlfriend says sushi is the world's sexiest food. She claims eating sushi is adventurous, delicious, and makes her feel healthy, alive, and passionate. Champagne is the ideal wine for sushi. Crisp, sharp bubbles that clean your palette and make any meal feel like a festive occasion. Vibrant and fresh, with creamy citrus, vanilla and spiced almond flavors.
$20: La Marca Prosecco 1.5 L: $21.99, from Veneto, Italy
Prosecco comes from the Veneto region of Northern Italy. Made from the Glera, or Prosecco grape. You'll find your local wine shops are overflowing with different brands of cheap Prosecco. Which one to get? The La Marca Extra Dry. The 1.5 liter bottle is a big bottle of love!  A fresh sparkling wine with a vibrant bouquet of apple, white peach, and honeysuckle.
$25: Roederer Estate Brut $21.99, from  Mendocino, California
Lots of the fine French Champagne houses bought vineyards in Napa/Sonoma California and make "California Champagne" using the same method and grapes as back in the motherland. Only they can't call it Champagne and they can't sell it for as much, because it comes from California. The Roederer Estate makes the famed Cristal Champagne ("Cristal, Maybachs, diamonds on your timepiece…") in France. This is their California version, a tremendous bargain for the rich and aromatic sparkler. You can buy 9 or 10 bottles of this, or one bottle of Cristal!  Floral apple, cinnamon and anise aromas; crisp yet supple lemon tart, cherry and spicy hazelnut flavors.
White:
$15: Alsace Willm Reserve Pinot Gris $14.99, from Alsace, France
For everyday drinking: grab white wines from Alsace. They sell for $10-20. The restaurant chain Legal Sea Foods has been trying to get folks to drink Alsatian wines for years, because they pair so well with seafood! Pleasant flavors of honey-tinged fruit, primarily peach, apricot, and a little pear. Perfect medium-bodied fruity wine to match with shellfish or lighter cuts of fish.
$20: Feudi di San Gregorio Falanghina $17.99 from Campania, Italy
Falanghina is an ancient grape variety, around when Emperor Nero was letting his kingdom burn…and toasting with a glass of Falanghina. You don't have to be a wine geek or experienced sommelier to enjoy this. It's a pure darling of aromatic pleasure, with aromas of flowers and tropical fruits.
$30: Cloudy Bay Sauvignon Blanc $27.99, from Marlborough, New Zealand
Folks don't seem the like big, buttery Chardonnay as much anymore, They want Sauvignon Blanc, from the Marlborough region of New Zealand, which tends toward grassy, grapefruit flavors. The Cloudy Bay is one of the world's most appreciated wines, the quintessential balance of acidity and fresh fruit.
Red:
$15: Masi Campofiorin Rosso del Veronese $16.99, from  Veneto, Italy
Valpolicella Ripasso from Italy is the "poor man's Amarone." You get the same flavors as the big boy wine, just not as smooth or intense. They sell for $15-20. This is the best wine value in the world. If you don't remember anything else in this blog, remember this one word: ripasso. Generous, ripe aromas of plum and cherry jam, with hints of spice. Bold and rich flavors of bitter cherries and berry fruits stand out on the palate, with good acidity, balance and velvety tannins.
$20: Chateau Miraval Rose $20.99, from Provence, France
Anytime you find yourself uncertain what wine to pair with a particular food, pick a dry rose', especially one from Provence, France. The Chateau Miraval comes from the Angelina Jolie-Brad Pitt winery, and was the only rose' to land on the Wine Spectator's Top 100 list a couple years ago. We want to hate it, right? Dang, this stuff is delicious! Peach and mango aromas that give way to a stony, racy edged core of white cherry and strawberry flavors.Yes, the Pitt/Jolie marriage is kaput. Brad, showing incredible savvy, only wants the Chateau Miraval in the divorce settlement.
$35: Faustino I Gran Reserva $34.99, from Rioja, Spain
Red wines from Rioja, Spain all feature the Tempranillo grape, native to Spain; lighter bodied, with a  red cherry flavor and a touch of fennel. The palate is soft; with sweet tannins. Tempranillo has a remarkable similarity to the Chianti wines from Tuscany, without the barnyard character of some Chianti. The trick with the Rioja reds is to understand the aging designations and to appreciate how they affect the price:
Tinto or Rioja: aged 6 months to 1 year: low or no oak aging: $9-$12
Crianza: aged 2 years: 1 year  in oak, 1 year in bottle: $12-$19
Reserva: aged 3 years: 2 years in oak, 1 year in bottle: $20-$30
Gran Reserva: aged 5 years: 2 years  in oak, 3 years  in bottle: $30 +
Faustino is a Gran Reserva from Rioja: aged 5 years: 2 years  in oak, 3 years  in bottle: $30 +. Red berries, cinnamon, clove and oak.
Need a slightly "better" present for Valentine's Day this year? Think about a City Wine Tours Gift Card or Booking a Tour for your loved one! We can send you a physical gift card to join one of our wine tours. Or, if you're very tardy in your gift buying, you can get an immediate digital gift certificate. 
These can be redeemed for any of our Soho or West Village tours. $75 per.
Hope to see you soon!
cheers,
Wes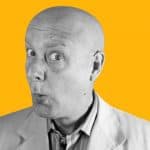 About the Author: Wes Narron is the Chief Wine Ambassador of City Wine Tours and thinks learning about wine should be as much fun as drinking it. City Wine Tours hosts weekend wine tasting tours in several NYC and Boston neighborhoods, plans corporate and private events, and encourages learned debauchery.  855-455-8747.  www.citywinetours.com