Inspired by 17th-century production techniques and using 100% blue agave, an extraordinary and complex aroma and taste is created by using Mexican mesquite wood during the artisanal process. All this, straight from the hands of eleventh-generation tequila producer and founder of Maestro Dobel, Juan Domingo Beckmann, Humito® is the world's first smoked silver tequila.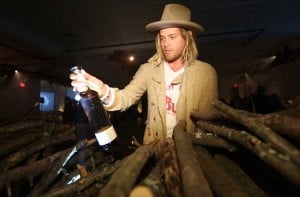 Named after the Spanish word for "smoky", Humito is the latest addition to Dobel's exceptional line, and joins one of the fastest growing ultra-premium tequila brands in the United States. With a bright clear color that hints of silver, the unique spirit is designed to be savored slowly. Different in flavor and production process to mezcal, this first ever smoked silver tequila is soft on the nose and smooth on the palate.
Humito's taste profile features forward notes of encino and sweet Mexican mesquite wood, top notes of honey and maple, and fruity floral undertones.
To commemorate the launch of this tequila, Maestro Dobel Humito will be partnering with French-born hat designer and fashion icon, Nick Fouquet. Both creators and visionaries in their respective industries, Fouquet treats each hat like a piece of art, the same way Beckmann treats each bottle. Relishing the artistic process of creation, and using smoke and fire to create his one-of-a-kind hats, Fouquet does not believe in rushing but emphasizes the enjoyment of the creative process.
Just as one would wear one of Nick's custom hats with confidence, Humito also commands a presence. Each limited and numbered bottle is a timeless testament to Dobel's standard of artistry and craft. Creatively packaged in a vintage apothecary style, the heavily embossed glass complete with stopper is inspired by the laboratory sample bottles used by old-fashioned tequileros.
For more information on Maestro Dobel Humito, please visit www.maestrodobel.com or track #neverdisappear.
###
About Nick Fouquet: Nick Fouquet reinvents tradition. As a modern hat maker who uses methods from the past, Fouquet tailors each unique piece. To most people, hat making might seem outdated, but it sparked in him something new, bringing joy, adding meaning to his life. Refusing to follow the safe path in life, Fouquet forged his own destiny instead. His fans admire his fire and contagious passion. A gentleman with a rebel heart, Fouquet dignifies his craft and makes his own rules. Fouquet embodies a force from the past with a contemporary twist. He believes in what he does and honors the humble craft of creating one of a kind hats. Fouquet's values reflect Dobel's, as Fouquet treats each hat like a piece of art. The design process is not to be rushed, but enjoyed, just like Humito. Designing custom hats for Madonna, Pharrell Williams, Bob Dylan, Sia, Gigi Hadid and Justin Bieber, Fouquet's fashionable designs are no stranger to the red carpet.