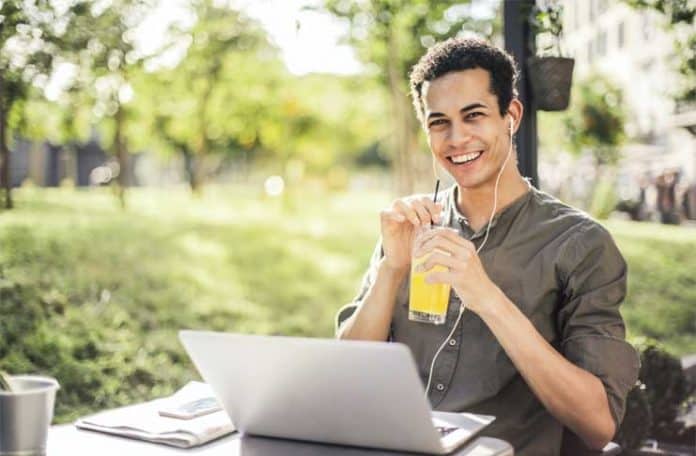 Summer was built for delicious, thirst-quenching drinks. After a long day working in the garden or hitting the beach, there's nothing quite like kicking back with an ice-cold glass of … well, what are you in the mood for?
Up ahead, we've compiled a list of 4 mouth-watering summer beverages you'll definitely want to try before the season's over.
1. Limoncello Spritzers
If you haven't (at least once in your life) found yourself sitting outside at sunset, sipping a limoncello spritzer with someone you love, you simply haven't lived.
Okay, that may be an exaggeration.
But seriously. These are so good. And if you want to pretend to be a true Italian, they're a must when summer rolls around.
To make a limoncello spritzer, you'll need just four ingredients: A good white wine, some ice cubes, club soda, and limoncello.
What's limoncello, you ask?
Limoncello is a yellow-colored, lemon-flavored, Italian liquor. It's made by combining water, some form of alcohol (typically grappa), lemon zest, and sugar. There are other "cellos" as well, which basically just sub out the lemon for a different fruit. Meloncello, for example, combines the same ingredients, but instead of lemons, the main ingredient is melon.
Start with a delicate glass of ice to make your own limoncello spritzer. Cover the ice with white wine to fill the glass up about 2/3 of the way. Add one shot of limoncello (get it directly from Italy if you can; it makes all the difference!), and finally, fill to the brim with club soda. Be sure to stir the contents well, then "saluti!" (cheers!) — enjoy!
2. Cannabis-Infused Sodas and Other Beverages
Yes! You can get beverages infused with cannabis. Wondering where these have been all your life? Same here. From sodas and lemonades, to (non-alcoholic) beers and tonics, there's something for everyone.
We especially like cannabis-infused drinks because they allow cannabis-lovers who aren't fond of smoking to enjoy THC in a more mellow form. Instead of kicking back with a beer or a glass of wine, simply have a soda and get the same relaxing effect.
You'll be able to find cannabis-infused sodas at basically any location where they sell cannabis products. We advise choosing a dispensary in Las Vegas that residents frequent and recommend as they'll be more likely to have the best brands: Legal, Wunder, and Giant, for starters.
3. Iced Coffee — Vietnamese Style
You've probably already indulged in your fair share of iced coffee. It's all the goodness of your morning brew but … not quite so sweat-inducing — perfect for a hot summer morning.
Vietnamese-style iced coffee offers something slightly different. To make this traditional drink, you'll need just three ingredients you probably already have in the kitchen: water, your favorite dark roast coffee, and condensed milk. You'll also need a French press (if you don't already have a Vietnamese press, that is).
Simply put your grounds (1 cup) into your French press, and pour over 3 cups of boiling water. Let sit for five minutes, and don't stir the contents (but do be sure that all of the grounds are covered as you pour).
Then, press the French press down, and pour the resulting coffee into a separate pitcher. Add your condensed milk (1/2 cup), and stir until fully mixed.
You'll want to drink this coffee over ice, but if it's still fairly hot, even after adding the condensed milk, give it at least an hour to sit in the fridge before serving.
4. Watermelon Cucumber Coolers
Perhaps you're someone who'd rather enjoy a drink that's absent the alcohol, THC, and caffeine. Fair enough! Here's one for you.
Watermelon cucumber coolers combine two of our favorite summer produce items: watermelon and cucumbers. Tip! If you have a garden, chances are, you'll be overflowing with cucumbers, so here's a great way to use them!
To make this drink, you'll need about half of a cucumber, 2 ½ cups of chunked watermelon (discard the seeds), the juice from 2 limes, and 1 Tbsp. of agave nectar. Set aside a slice or two of cucumber, lime, and watermelon to add as a garnish to each glass as well.
Puree your cucumber and watermelon together in a blender. Be sure to remove the skin of your cucumber (unless it's an English cucumber, which has a delicate skin that can be blended). Pour the resulting blend through a fine mesh strainer (into a separate pitcher) to remove any unwanted chunks or seeds. Add the lime juice and agave nectar, then stir well.
It's best to enjoy this drink over ice, and be sure to add your garnishes as well as a sprig of mint when you're ready to serve.
So, which drink will you be sipping this evening? Simply pick your poison and cheers to a joyous rest of the summer!