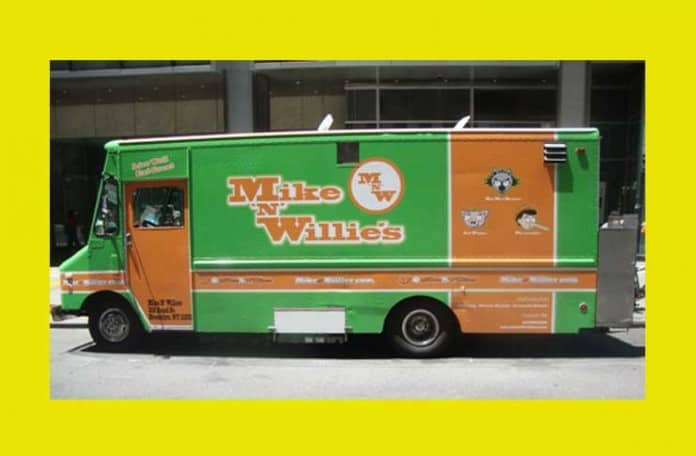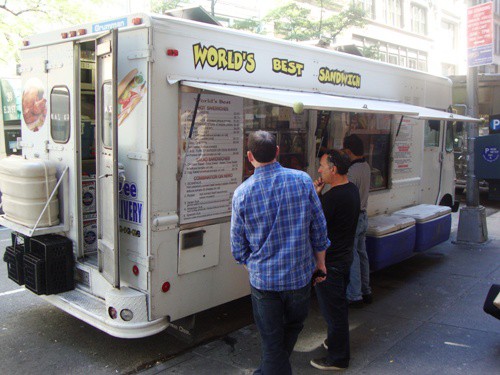 It's another cool, sunny day. Perfect for enjoying some great New York Street Food from the vendors on the right and the trucks below.
Today is the last chance to get free food from the Air France Food Truck, which is downtown on Wall St today.
There's also the History Channel's Cajun-themed food truck giving out free food to promote the 2nd season of Swamp People. As long as you don't mind gator and rattlesnake stew. Just kidding! They say the menu might include "mallard duck and smoked wild boar sausage gumbo, venison jambalaya, and fricassee of swamp rabbit and wild mushrooms."
We also hear the Souvlaki GR truck will be returning to Chelsea tomorrow.  But that's for tomorrow.
For today, make sure to check the Mobile Munchies twitter feed before heading out, in case anyone had to move at the last minute.
schnitznthings
Morning guys! Schnitz mobile will be on Hudson & King sts from 11:30-3:00. Store will be open from 11:30-8:00. Come and get some:)!
feedyourhole
Goodmorning everyone! Were on 29th and Park. Serving fresh burgers! The Street Fair hero – Classic Sausage & Peppers packed with Sweet&Hot Sausage… Soooo official. Fresh Yukon Gold Potato Chips Coming Soon! – feed your hole.
KimchiTruck
Good morning FiDi! We're on Water St. (Bet. Gouveneur Ln. & Wall St.) Just a few blocks north of our usual spot. Lunch 11:30 – 2:30. See U.
EddiesPizzaNY Open at 11am on 26th and Park. We have Hawaiian Pizza (Pineapple/Prosciuitto) OR add a Mozzarella Stick topper to any hero!
UncleGussys
Good morning It was a crazy night last night, now were back in action,51 st and park delicious
#Greek
dishes. This is the real deal GYRO Greek style with the traditional Tzatziki Fresh and tasty, since 1971. Mom made some lentil soup, have a cup and warm up 🙂
TaimMobile Happy Monday ! 45 and 6th today! This wk we have spicy harissa falafel as a special! And tomorrow nt we will be @ choice eats !
cupcakecrewnyc
Cupcakecrew Truck parked in Murray Hill today on Park Ave. & E34th St. w/10 flavors…Come start the week off with a treat:-] Todays menu:Red Vel,Creamcheese Brownie,Samoa,Choc/Van,Van Caramel,*Samoa,Graceland,Van/Choc,Cookies & Cream,Hummingbird & White Choc Espres
bigdsgrub 3/28 (Mon) G'morning! We are on 40th and 6th ave today!
KorillaBBQ
G'mornin mid east. Heading to 55th & Lex. See you soon!
fritesnmeats lunch today @ 52nd b/t 6th & 7th av burger of the week THE ITALIAN JOB we r also bringing out the salads for ya:) For dessert treats today we got tasty cinnamon rice pudding! Preorder 9172929226
waffletruck Magical Monday! Le Truck is @ Columbia (113 & Broadway) til 4:29pm. Yes, the Carts. The Goesting is @ NYU (W4 & Mercer). The Vedette is @ Central Park (60 & 5). Both til 6:47pm. Mention Belgian Restaurant week, get a free Playground wafel. Yay!
AirFranceUS Last day and we're at Wall St. between William and Hanover, get our #free treats while you still can! http://ow.ly/4nFTa
SweeteryNYC
Good morning Hudson& King St. Sweetery is on location 2 help easy the pain of Mon AM, here til 3:30, stop by 4 a great scone/muffin & coffee
ETRAVAGANZA
Happy recovery monday#today"s lunch
#Flank
steak burrito,all the way only$5.99 @ 52 n park
BistroTruck Good day nyc. We are running a bit late today due to an extreme traffic on the bridge. Should be open by noon. See y'all soon.
TheTacoTruck
Buy an order of tacos at lunch & get 1 extra free taco of your choice if you mention Munchie Monday. Free taco doesn't include Tacos del Mar