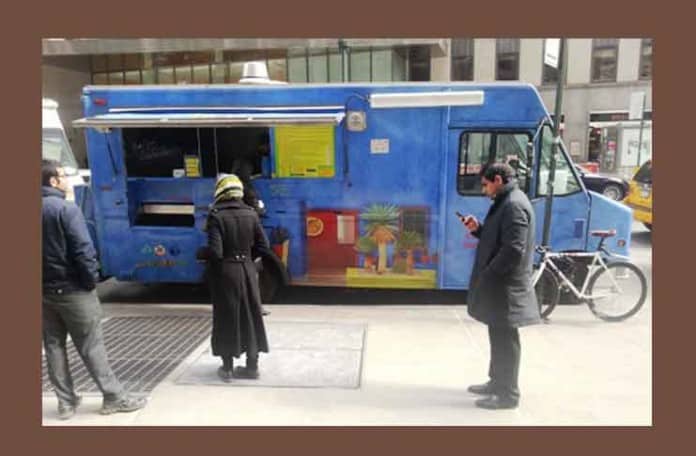 We spent a lot of time this weekend upgrading servers, fixing the Mobile Munchies feeds on the New York Street Food Apps for iPhone and Android, and cleaning up a bunch of other stuff.  Hopefully, the recent technical difficulties are behind us.
Lots of great New York Street Food available today, but there are still problems with trucks getting chased.  Big D's already got chased again today and re-landed, and I'm sure they won't be the only ones.  Make sure to check the Mobile Munchies twitter feed before heading out.
You may have to re-follow the Mobile Munchies list, as we moved it back to it's original address on Twitter (@nystfood/mobile-munchies, not mobile-munchies-3).
bigdsgrub
Halal guys called the cops on us. Just got shut down. Moving to a new location. Madison Avenue between 55th and 56th. Open at 11:30am. Let's keep our fingers crossed.
ETRAVAGANZA
Morning all !! Still hangover? Treat yourself with a nicely spiced skirt burrito or tacos served all the way..of course@ 52,n park
gcnyc1 Gorilla Cheese NYC FiDi Water bet Wall & Pine….buffalo ckn. fresh Mozzarella special …spicy cheesy Yum…11-3pm
Frying_Dutchmen Frying Dutchmen We will be at our Lunch spot today at Water and John street. We will open around 11:30.
EddiesPizzaNY Today we r on 39th and 9th for lunch w truck and and 72nd and 3rd w cart from 1130am to 9pm
thejalapenonyc We are on Bowery & Houston next to whole food, breakfast till 11. Lunch from 11 am till 4pm Spread the voice!!! Have a nice day