It might be difficult to shop for someone who has a serious food obsession. They have a large condiment collection that takes up numerous shelves, and they are always smelling something. You can't just hand them another Boos block since it would be too predictable. And I think it's fair to presume that they already have all the knives they'll ever need.
Here, we've compiled a buying guide for the eater who already has everything. Yes, I know, there are plenty of options online. Sites like Maison Custom, for example, offer uniquely personalized cutting boards for those who dream to be chefs.
Everything from the kitchen to the grill, and even alternatives for the most discerning coffee connoisseurs, may be found here. If none of the items on this list strike their fancy, a good old-fashioned gift voucher is always a safe bet; after all, foodies value autonomy above all else.
Courses in Culinary Arts
You and your foodie friend certainly dine at hot-spot restaurants regularly, and although that never truly gets old, it's good to stir things up periodically. Give the present that keeps on giving: a series of culinary lessons to your favorite gourmet.
Whether you're searching for cooking lessons in Phoenix, cooking classes in Fort Lauderdale, or cooking classes in Minneapolis, they'll adore this culinary experience present, and they'll get to learn how to prepare their favorite foods anytime they want to.
What's more, is that these workshops are taught by specialists, so the skills learned from them are ones that may be employed in the kitchen for years to come.
Cheese Murray's Cheese of the Month Club: Cheese monger's Picks
A monthly delivery of three or four extraordinary artisanal cheeses hand-selected by the cheese monger and brought straight to their door? We're not cheesy!
One of the best monthly food subscription boxes available is Murray's Cheese's Cheese monger's Picks Cheese of the Month Club, which is selected to pure cheesy perfection. Anybody will fawn over a delicious cheese platter. Check them out here.
Momofuku Chili Crunch: FOR THE SPICE LOVER
Momofuku's Chili Crunch will give your foodie's palette a little heat. It's a restaurant-tested, highly regarded hot and crispy chili from chef and Momofuku creator David Chang that gives any meal a ton of flavor and spice. This chili, which is made with three Mexican chilies, dried garlic, and shallots, adds a sweet-smoky flavor punch to eggs, tacos, dips, salads, and a variety of other dishes. It's the present that foodies will gush over for weeks.
Pasta Maker
Using a box to make pasta? One of the simplest things there is. Hand-making pasta? Even if you don't have an old country Nona, you'll feel good about yourself because you did.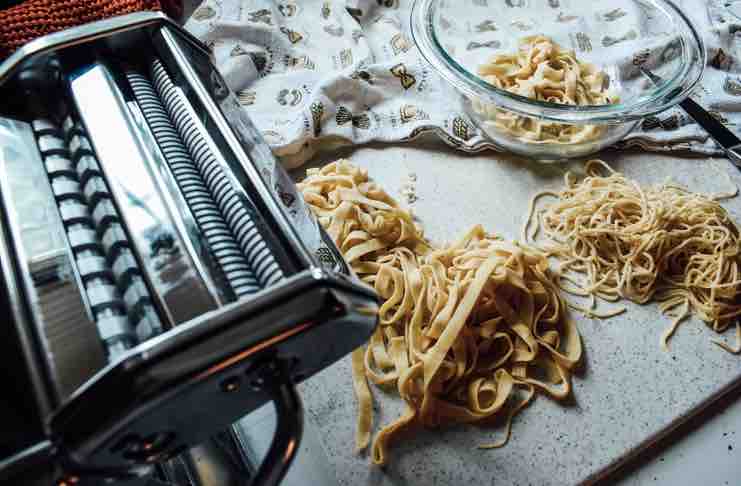 For example, you can give the Imperia Pasta Maker to the foodie who is sick of fettuccini or spaghetti from the supermarket. Nothing compares to homemade pasta for an Italian dinner at home.
An individual cutting board
One of those presents that you may offer at any time is a personalized cutting board, whether it's for Christmas, a birthday, or to welcome new homeowners! There are a plethora of possibilities available for this gift.
A beloved dish, a newlyweds' new shared moniker, or a culinary inside joke can all be written on the board.
High-grade Olive Oil
Food connoisseurs are aware that the tastiest meals are made with the finest ingredients, particularly olive oil.
The drawback to this is that the best olive oil is often rather pricey. Thank goodness they have a buddy like you who understands that imported olive oil from Bright land (in a striking bottle) is one of the best present ideas!
Portable Waffle Maker
Small doughnut or waffle machines are excellent, affordable, and unusual presents for foodies. They will be able to quickly produce bite-sized sweets and experiment with new recipes thanks to this!
Avocado Tool 
Avocado tools are essential for foodies. Even those who aren't foodies may appreciate how frustrating it can be to attempt to pit and slice slippery avocados. These affordable culinary presents are the sort you can buy with confidence that they'll be used frequently.
A subscription to hot sauce
Foodies typically have very sophisticated palates. They can be particular about their spicy sauce because of this. You can't just slather Cholula on everything, after all!
Subscriptions to Ganado's spicy sauce are a wonderfully original and practical present for foodies that they definitely wouldn't have thought of themselves! Each month, the receiver may sample a different handcrafted, unique spicy sauce for only $40.
A honey sampling
As we've already established, foodies like premium ingredients. They also like trying out new dishes. For individuals who adore honey and different variants of their favorite cuisines and ingredients, real raw samples of honey from Brazil are the perfect culinary presents.