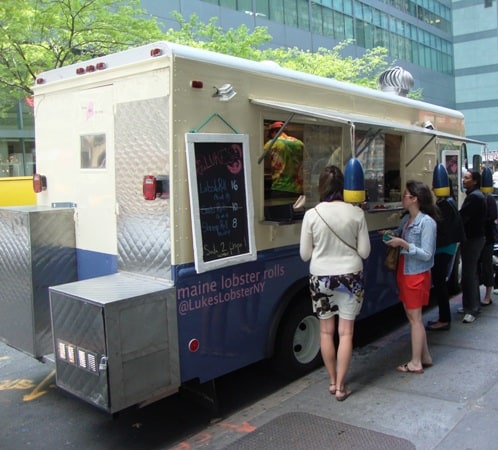 Feel like Lobster Grilled Cheese? It's a good thing we check menus regularly. Otherwise we would end up missing some delicious grub (if you can call lobster grub).
Luke's Lobster was parked around the corner from our office yesterday. Walking by, we weren't expecting to see anything we haven't tried before.
Luke's lobster, crab and shrimp rolls are excellent, but our readers expect new dishes to be reviewed every day. We haven't been to Luke's in a while, and luckily they had a new dish – lobster grilled cheese for $12.
Since Luke's lunches are usually tasty, but not so filling, we went for a combo for $2 extra, which comes with a bottle of Maine Root soda and Cape Cod chips.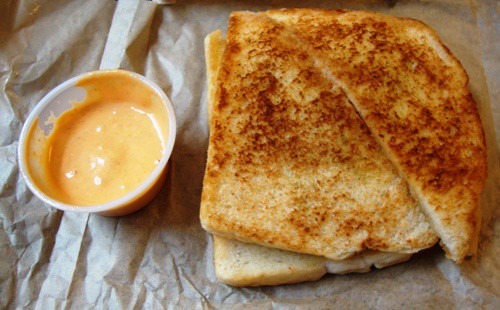 Unwrapping the sandwich, it wasn't the largest sandwich we've ever had. In fact, it was on the small side, but nicely grilled. There better be serious meat in the middle.
Huzzah! Lot's of lobster meat in there. It looked like mostly knuckle meat, which was thick and chewy and flavorful.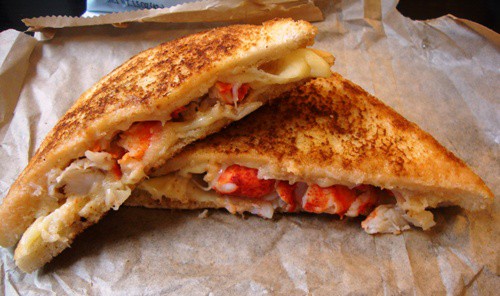 The cheese in the "Lobster Grilled Cheese" was gruyere, but it wasn't too strong. The tang from the gruyere played off the sweetness and saltiness of the lobster meat pretty well.
Even though it was called a grilled cheese sandwich, the main ingredient and taste was lobster. The gruyere cheese was more of an accent, but a good one.
We also recommend the chipotle mayo dip that came with lunch. It spiced up the sandwich a bit without being too hot.
You can find Luke's Lobster on twitter here or on our Mobile Munchies twitter feed.  They also have several storefronts in NYC and one in Washington DC, if you're in the neighborhood.