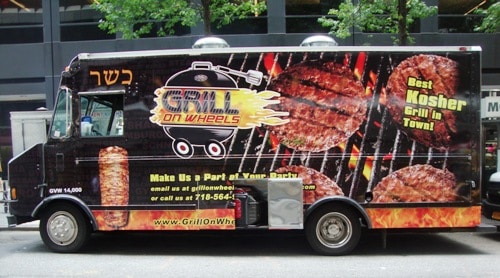 Feel like Kosher Shawarma? We were tipped off to Grill On Wheels by the owner of a NYC food truck you all know, but we won't name.
He told us Grill On Wheels just came onto the scene last week, and started parking on 46th St east of 6th Ave, where he usually parks one day a week. Even though he has been parking at this spot one day a week for over a year, Grill On Wheels refused to move.
It's tough on the street, but there's an unwritten honor code about taking someone else's regular spot. Vendors need to develop their own locations, not steal parking spots from other food trucks who worked to develop them.
Hopefully this will work itself out, but yesterday, Grill On Wheels was back on 46th St east of 6th Ave, right next to Moshe's Falafel. Considering Moshe's Falafel and Grill On Wheels' food are both certified kosher, Moshe's couldn't have been too happy with them either.
Not to reward bad behavior, but since we were there, it made sense to check out the food. It was pretty obvious they were still getting their act together.
Just after we ordered and paid for a Kosher Shawarma ($10.50) and fries ($3.50), a guy asked for his money back. He said he had a 1:30 meeting, and wouldn't have time to eat it now, with how long it was taking.
After that, three young women got their food, but complained about how long it took, and that the fries were too overdone. Certainly not an auspicious beginning.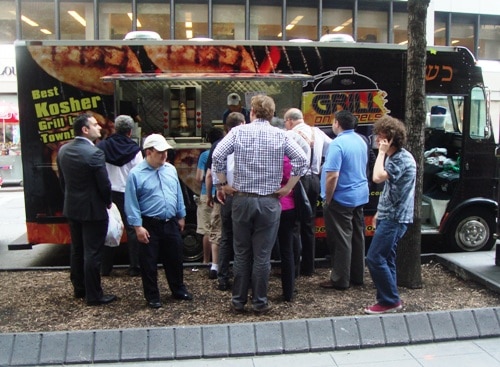 We must have gotten there just after the rush because our food was received in about 10 minutes, but $14 for a Kosher Shawarma sandwich and fries is way too high-priced.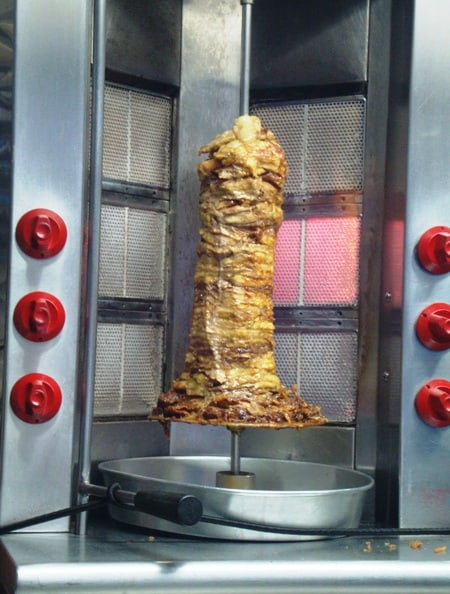 We decided to order the Kosher Shawarma because they had one of those roasting spits with real chicken and lamb, not the processed stuff. That's worth a little more money, but Toum's chicken shawarma sandwich is $7, and fries are included within the wrap.
The 10″ baguette was stuffed with a mixture of soft and crispy meat that was pretty good.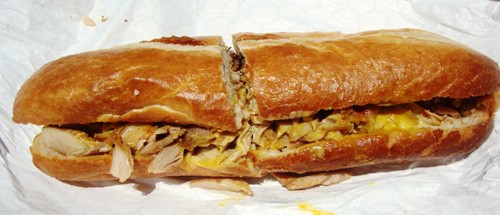 Unlike other shawarma sandwiches we've had, this one included eggplant, hummus, tahini, tomatoes & cucumbers. (We asked for no tomato, but ended up with no cukes either.) Pickled mango sauce was put on the baguette too.
The ingredients reminded us of Taim's sabich sandwich, but without the hard-boiled egg. You can't include an egg with chicken on a kosher truck. Eggs are dairy, right?
The pickled mango sauce had a curry-ish flavor and color, and livened up the meat, eggplant and other fillings. But the bites did get a little salty at times.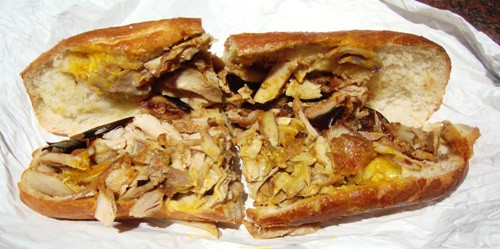 The fries were cooked to well done, but unlike the women earlier, that's our preference. We did not feel the fries were overdone, but they were unsalted.
That was a bit jarring at first. Then we took out some ketchup and dipped the fries into it. At that point, the lack of salt didn't really matter.
To summarize, the food was good and filling, but overpriced. The fries for $3.50 was of particular note. Other people ended up waiting a long time, but we got lucky and didn't have to wait long.
As far as the rest of the menu, most main courses are in the $10 range, but it costs another $3.50 for fries. There are a few different Middle Eastern-tinged sandwiches, plus several ways to order chicken schnitzel (plain, honey bbq, buffalo sauce, etc).
We did see one scary thing on the menu:
"Sushi – Coming soon!"  That should be a trip and a half.
Grill On Wheels is on facebook here, and their website is here.
You can find Grill On Wheels on twitter here or on our Mobile Munchies twitter feed…or you can just look for them in someone else's spot.