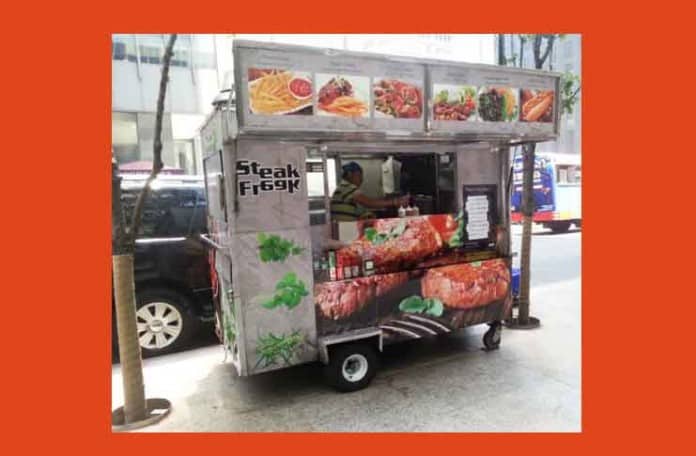 There are great things and not-so-great things about NYC being in constant change. Places we love can disappear overnight, but new ones come in to take their place.
We found Steak Freak on 52nd St, just west of 6th Ave. A lot of food trucks and carts park there now, and the police have been active in chasing food trucks away regularly.
Everything was quiet when we went, but as a food cart, Steak Freak is operating legally anyway. It's the food trucks that are technically illegal in NYC.
The menu at Steak Freak is eclectic, with the top part of the menu concentrating on various forms of steak, and the lower half including a chicken and shrimp dish.
As always with a new vendor, we asked for their suggestion, which was Steak Frites for $8.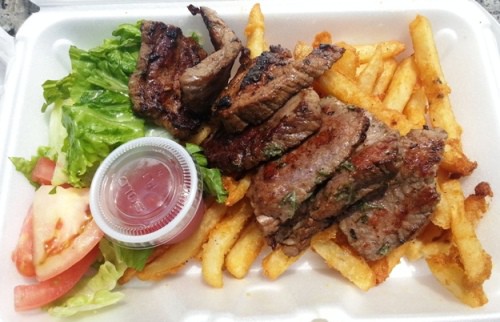 According to the guy in the cart, they have been on the street for 2 weeks. That qualifies as new in our book.
If you want a classic steak and frites lunch, this is a pretty good choice. There were about 8 large slices of beef. We couldn't tell exactly what cut of meat it was, but the beef was tender, with no fatty pieces among the bunch.
The steak was only seasoned with salt and pepper and grilled. There was some charring on the meat, but it was not burdened with any rubs or sauces. The meal succeeded on the merits of the steak.
The frites appeared to be double-fried. This is a good option when fast service is needed. The potatoes can be fried earlier, and re-fried after being ordered. Double-frying makes them nice and crispy.
A simple, good-quality steak lunch for $8 is a nice find in midtown. We look forward to trying some of their other dishes, like Steak Basil Lime and Shrimp with Sweet Garlic. Steak Bolognese we'll probably skip.
You can find Steak Freak on 52nd St just west of 6th Ave weekdays for lunch.