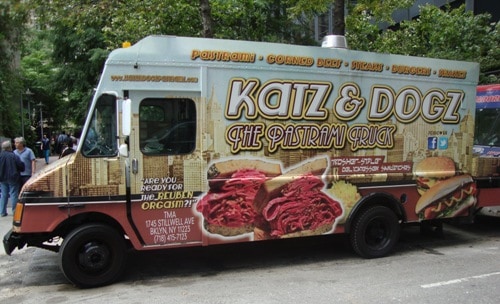 It's an embarrassment that it took so long for NYC to finally come up with a food truck that serves Jewish soul food. We've made several visits to the Canters Deli Truck in LA, but NYC is where delicatessen originated, and is the spritual home of deli.
Katz & Dogz hit the street about a month ago, but they still don't have a twitter account, and we've been out of town for the past 2 weeks, so they flew under our radar for a little while.
But they are on our radar now, and will be for quite some time because we love deli!
Katz & Dogz is not kosher, they are kosher-style. For the non-Semitic, this means along with pastrami, corned beef, Hebrew National hot dogs and several types of knishes, they also serve reubens, which mix meat and cheese.
We asked whether they were affiliated with Katz's Deli on Houston St, one of the top (if not the top), delis in NYC. They are not affiliated with Katz's, but you wouldn't know it from the menu.
Our first order was the Reuben Sandwich for $12, which they disturbingly call The Reuben Orgasm. Guess they're trying to capitalize on that scene from When Harry Met Sally, which was actually filmed in Katz's Deli.
We prefer pastrami and Russian dressing on our Reuben, although lots of people like it with corned beef and mustard.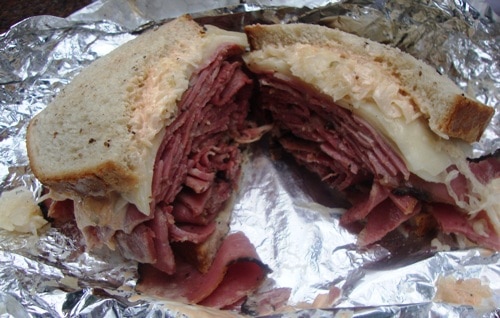 We love Katz's Deli, but the prices at the Katz & Dogz truck are certainly gentler. A pastrami sandwich is $10 vs. $16.95 at Katz's. A corned beef sandwich is also $10 vs $15.95, and the Reuben is $12 vs. $17.45 at Katz's. Lots of people complain that prices at food trucks are not cheaper than their brick-and-mortar counterparts, but at Katz & Doga, they are.
While the sandwiches at Katz & Dogz may not be quite as thick as the sandwiches at Katz's Deli, they are still pretty damn big by any measure. We measured ours at about 3″ thick!
Not only was there a lot of meat on the sandwich, but it was juicy, with a decent amount of (but not too much) fat that added to the overall flavor.
The pastrami also had a nice peppery ring around the edge that spiced up the proceedings, and you taste a light brine on the meat.
The main course is obviously the sandwich, but it also comes with dill pickle spears and a side order of macaroni salad.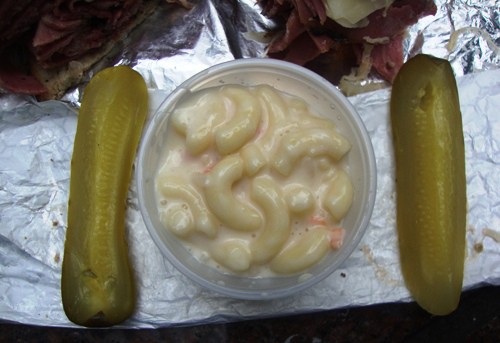 One of the other things we love is a kasha knish ($4), but that's way too much food for one person. Our suggestion is to split a sandwich and a knish with a friend or co-worker for lunch.
Another way to go is to get a tasty Hebrew National hot dog and a knish for lunch.
We asked the guy taking orders whether they had a twitter account at Katz & Dogz, but he just gave me a blank stare. The guy slicing the meat heard us ask, and he told us their schedule, which is as follows:
Mon – 52nd & 6th
Tues – 23rd & Park
Wed – 22nd & 5th
Thurs – 46th & 6th
Fri – Williamsburg, Bedford St between 4th & 8th St, depending on parking.
You know we will be back to Katz & Dogz as much as possible. We grew up on deli. It's part of our heritage as a New York Jew. They may not speak English particularly well on the truck, but they serve a top-notch Reuben sandwich!