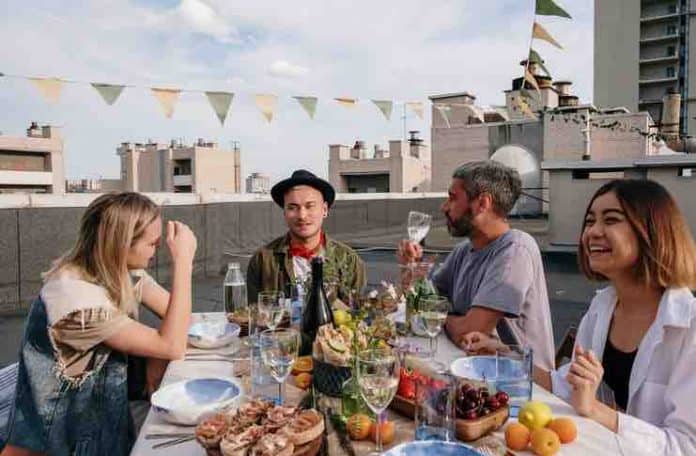 So you're planning a big Chicken dinner party with a few close friends and you're coming up short on dinner ideas. How about chicken strips? They're easy, versatile, and are always all-around fun finger food.
I won't waste your time with a long introduction. Let's dive into it.
Chicken Dinner Party Ideas:
1. Crispy Panko Chicken Strips
Everyone knows that breaded chicken is always a real treat, but when you add Panko breadcrumbs to fry your strips, it's a whole new experience. Panko breadcrumbs use different technology to bake the bread and instead use electric current. Since Panko bread has no crust on top, the bread itself is flakier. It's also shredded into flakes that don't absorb oil, making the outside coating crispier as a result.
2. Beer-Battered Chicken Strips
If you've ever had beer-battered onion rings, you'll instantly know how tasty it can make chicken strips. Beer-battered strips are much fluffier than regular coatings since the Co2 in beer that's added will cause the batter to puff up while it's fried in oil. The alcohol also helps keep the internal temperature of the chicken and allows your chicken to remain juicy while the outside coating stays nice and crispy.

3. Buttermilk Chicken Strips
Chicken that's presoaked in buttermilk helps to tenderize your chicken naturally, preserving the flavor without making it tough like other marinades. The secret to getting tender chicken is letting your chicken meat soak overnight. If you let them soak any longer the meat will start to get tough. This allows you to have juicier chicken no matter what kind of breaded covering you fry them in.
4. KFC-Inspired Spicy Strips
The real secret in getting KFC-inspired chicken strips is using a wire mesh placed inside a plastic container. The mesh can be a cooling rack that has a cross-hatch wireframe and can even be placed inside a casserole tray or a deep baking pan. Once the breaded chicken goes into this pan it needs to be covered so you shake it a few times. Repeat your breading process once more and shake again. This gives you the exact texture for real KFC coatings. See more ideas for these strips and other BBQ tips.

5. Buffalo-Style Chicken Tenders
Now it's not so often that you see a good method for making buffalo chicken strips. The outside coating is going to be best if you use crushed corn flakes. Any corn flakes are good but try using a brand that isn't frosted or sugar-coated. Once you dip your chicken into the flour, it then goes into your egg mixture and then into the crushed corn flakes. If you want to add some kick, add cayenne chili powder to your flour and within your cornflake bowl.

Great Ideas on Dipping Sauces 
A good variety of chicken strips offered at this dinner party are best but don't skimp on the dipping sauces. The old favorites will include Blue-cheese dressing, ranch dressing, hot and sweet mustard dip, and even avocado or salsa dips. One new addition that is turning heads is Mike's Hot Honey sauce that combines chili pepper and honey that adds an exotic kick for any fried chicken strips. You can make it yourself if Trader Joe's is all sold out.
Well, I hope these ideas will help you produce a great Chicken Dinner Party!
Want to read more of our posts? Check out our guide on Food Truck Accessories, or our post about what makes a restaurant successful.