Feel like trying Hawaiian Cuisine? Welcome to Noreetuh, a modern Hawaiian restaurant on 128 First Ave. in the East Village. We eat outside. Despite being chilly and keenly realizing we are mere inches from screaming traffic, neither my photographer nor myself wish to tempt fate with the looming threat of COVID-19's omicron strain. The outdoor dining space is fairly well-lit and cozy, thanks to several heaters on the makeshift ceiling. 
Everything seems immaculately clean. The initial service is warm, and we peruse the menus in peace. Another server appears and asks us if we would like anything to drink. Full disclosure – I've never been much of a wine drinker, and I tell her thusly. 
However, since the restaurant's website boasts an award-winning wine list, my curiosity is piqued. We ask for recommendations. The bottle she brings us, a 2018 Riesling from Mosel, Germany is dry and sparkling and actually quite good. Not too sweet, not too dry, and perfectly chilled. 
Jin Ahn, the General Manager, arrives and asks us about drink preferences; I tell him the Riesling is delightful. He promises us several pairings as we move forward, and graciously takes our (admittedly sizable) order.
The Appetizers at Noreetuh
The skewers arrive first – a variety tasting. While the hanger steak is tender and beefy, and the Iberico pork belly is marvelously charred and glistening, the true stand-out is the cuttlefish. Served with fresh shiitake mushroom and Thai basil pesto, it was a surprising mouthful, filled with various textures and aromas. The smartly chewy texture of the cuttlefish was enhanced by the fresh mushroom, but never got overwhelmed by the pesto, which was carefully added in the perfect quantity.
The katsu sando appears rather monstrous but goes down lightly. This is largely due to the delicate balance of light and heavy, achieved here with grace. The house-made pickles are tart, the lightly dressed lettuce is both creamy and acidic, and the fried Berkshire pork cutlet is unabashedly rich. 
Delightfully crunchy, fatty, and tangy insides surrounded by a pillowy, buttery bun. Beware, however, if you are averse to chewier cuts of meat – this pork cutlet was both chewy (in a way that I enjoyed, but my photographer decidedly did not) and medium-rare. 
The tuna poke is fresh and fragrant with the scent of scallions and sesame oil. It is delicious, albeit somewhat standard. The pickled jalapeños provide a snappy respite from the sea of tuna, but the entire dish grows somewhat monotonous without rice. Feel like making this at home? check out this recipe. 
Lastly, the truffle wontons are delicate-looking and thin-skinned. The pickled little hon shimeji mushrooms swim in a lake of buttery, umami laden sauce, and the entire plate is covered shamelessly with shaved truffles.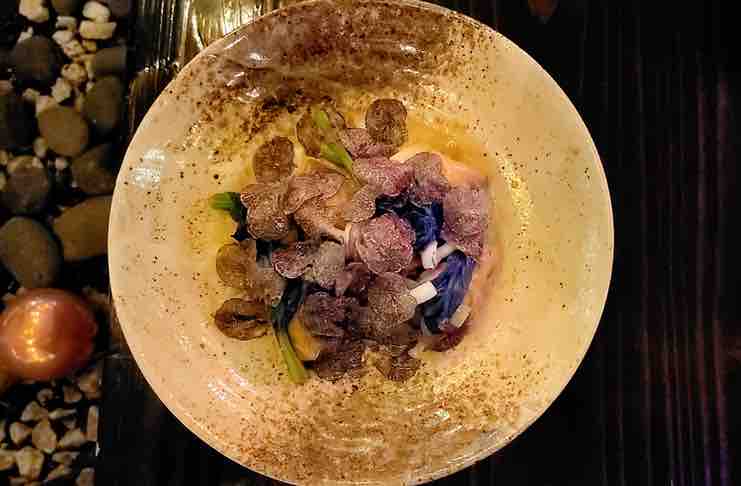 The wontons themselves, however, are extremely salty, perhaps due to the filling of ham hock. This dish came recommended to us by both Jin and one of our servers, but I would refrain from repeating this experience. 
Musubi: A Hawaiian Cuisine Delicacy
Almost-too-big-to-be-bite-sized, the musubi at Noreetuh comes with a variety of fillings. The katsuobushi is a punch of braised bonito flakes and Japanese cucumber salad, yielding a smoky, oceanic flavor with a burst of freshness. 
The shiitake mushroom is underwhelming and unfortunately finds itself outmatched by the accompanying kombu filling. The Japanese scallop is gentle and tender, a subtle textural experience rather than an explosion of flavor. The pork jowl is expectedly fatty and rich, deliciously combined with a classic ginger and scallion puree. The clear star of the musubi, however, belongs to the classic SPAM. Intense and umami-rich, with a satisfying mouthfeel and added texture from the nori wrapper, this is a must-get item for anyone who eats meat.
One thing to note is that the nori wrappers are not consistently crispy. The nori around the SPAM musubi is perfect – as crisp as a newly ironed button-down. The nori around the katsuobushi, however, is not. It is not quite soggy, but I can't easily bite through it, and I am forced to unceremoniously shove the entire thing in my mouth. Good flavor, but the nori is too chewy. Perhaps this is due to the various fillings and their differing moisture contents.
The Main courses
The garlic shrimp bowl at Noreetuh needs very little explanation. It is extremely garlicky, with pops of pineapple and chilis, and is served with a generous portion of butterflied, tailless shrimp over a bed of rice. The rice is a wonderful sponge and dutifully carries these wonderful flavors from the plate to the spoon, into your mouth. Very fragrant, very tasty, and very easy to eat.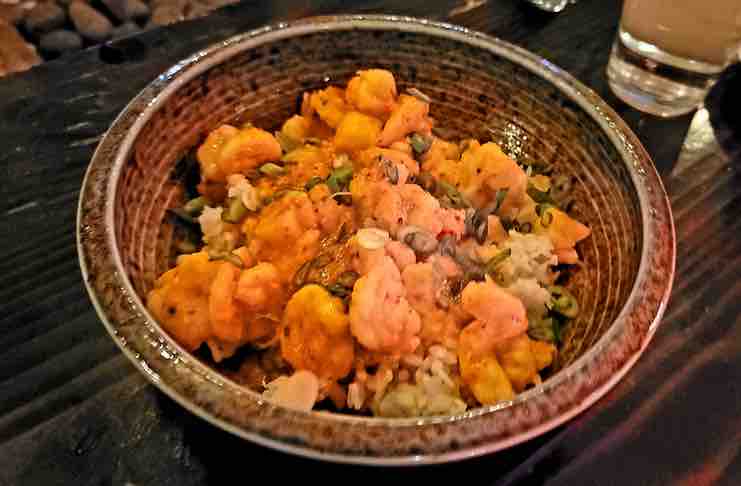 I love any variation of gravy and rice, so of course, we ordered mochiko chicken loco moco, which Jin describes as "not very traditional," but still ends up being marvelous. The chicken is dark meat with all the skin and no bone, which means all the earth-shattering, schmaltzy goodness and none of the work. 
It is a beautiful thing, with a perfectly oozy sunny side-up egg topping fluffy white rice, surrounded by a veritable moat of soft, creamy gravy. The macaroni salad is very standard, but the other components more than make up for this. It is an edible comfort. 
One of the servers recommends the mentaiko tagliatelle, and it is an impressive sight. Three large blue shrimp, deep-fried and missing zero heads, were begging to be broken into. The tagliatelle is nothing special, but after one bite, the true stand-out is the sauce. Deeply flavorful and creamy, with aonori and Manila clams, it is the kind of sauce you'd like to lick off the plate (if no one was watching).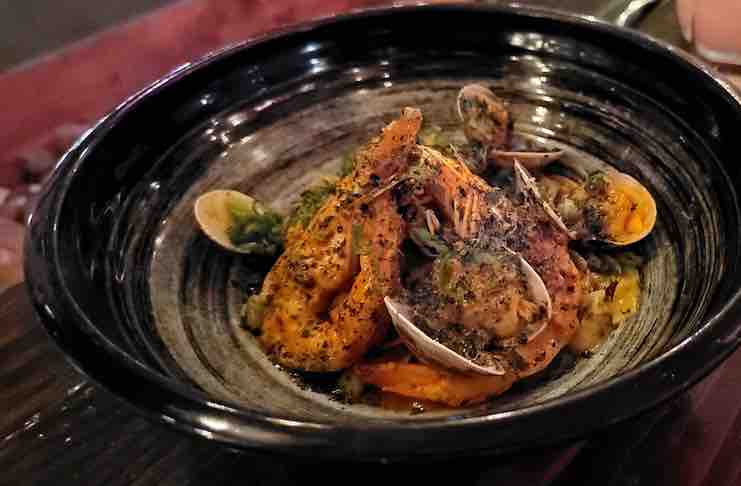 The Dessert
Despite being absurdly full, my ears perk up with the mention of dessert, and I have a special portion of my stomach that is specially reserved for such occasions. We ask for recommendations and are served a bruléed Hawaiian pineapple and a brownie.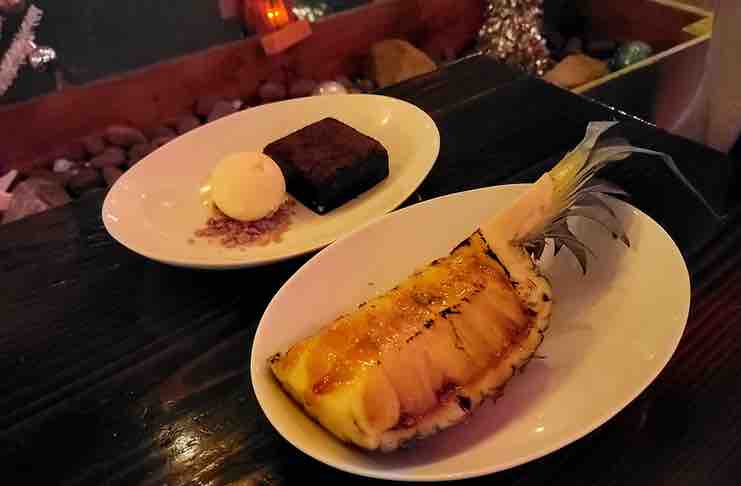 The pineapple is statuesque and served in its quartered, hollowed-out hull; it is exceptionally sweet and energizing with the lime and salt. The chocolate macadamia nut brownie has been precisely warmed (definitely not a microwave job) and provides a delicious contrast to its fruity counterpart. It was served with coconut ice cream, which is good by itself but even better with the pineapple. 
The Drinks
Along the course of the meal at Noreetuh, we were given the pleasure of tasting several different wines. There was another Riesling, this one from 2020 and much drier than the first, and a 2019 Verdeca with a vegetal aftertaste. 
Later, a Nero d'Avola from 2019 and 2015 Cabernet Sauvignon rounded out the reds. None are as versatile or, frankly, as unexpectedly delicious as the first '18 Riesling. 
Jin also surprised us with a couple of cocktails – a lychee highball (fresh, almost milky lychee puree with a zippy yuzu sake), and a coconut sangria (coconut cream, mint, and butterfly pea soju). Both were not too sweet and pleasantly invigorating after our appetizers. 
Best three bites
Cuttlefish skewer 

SPAM musubi

Fried, boneless, dark meat chicken
Bathroom break
The bathroom at Noreetuh is impeccable. Sparkling clean with plenty of soap, toilet paper, and paper towels. Bonus points for humorous decorations. In this day and age, it is truly the little things that matter.
Want to read more of our latest posts? Check out our tips on how to cook restaurant-quality meals at home.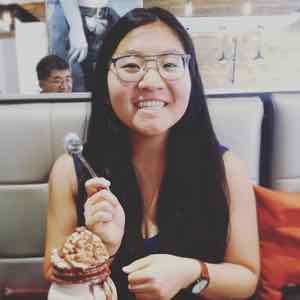 Katherine Chin was raised in upstate New York and grew up with the mindset that good food can, and does, exist anywhere. Now living and working around Manhattan, she spends most of her breakfasts pondering what she'll eat for dinner. She advocates for food that tastes good, and believes that sharing is caring – the best food is often eaten together. You can find her either walking or eating anywhere in Manhattan, when she's not planning her next food-centric adventure.