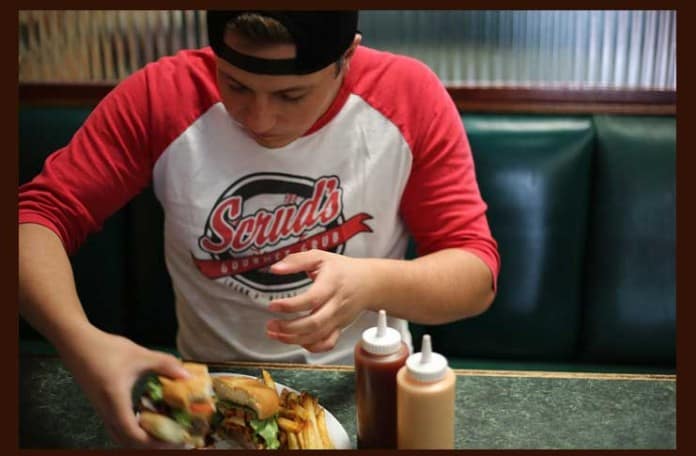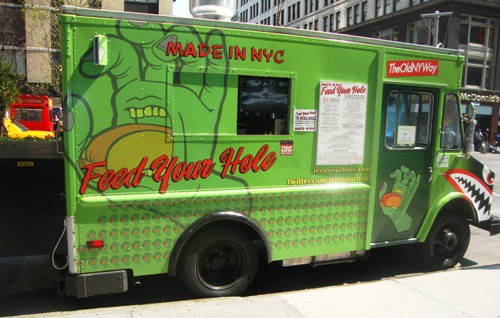 Feed Your Hole haven't been tweeting much lately because they think it attracts too much attention from the police and other merchants, but they are still around, and pretty popular judging by the number of people around the truck.
There were about 10 people around the truck waiting for their orders, and I must say, it took too long from ordering to receiving lunch.  You could see on everyone's faces they were kept waiting too long, and there was a lot of grumbling going on.  I know everything is made and cooked fresh, but he needs to get the serving time down.
During the summer, Sean decided to change his burger menu to sliders, and I haven't gotten to try them all.  Today's Lunch is 3 sliders from Feed Your Hole.  It costs $5 for one, $8 for two and $10 for three.  I went for the Bourbon Mes, Mini Nut and the aptly-named Syc Fuk.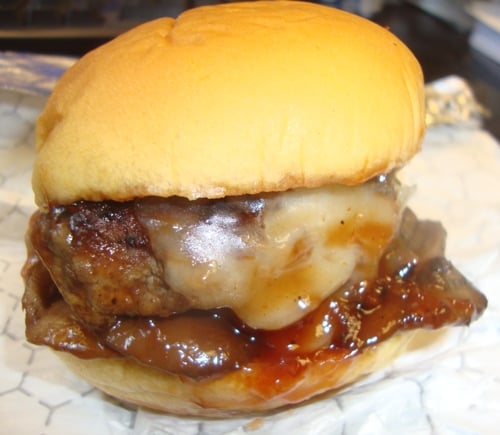 The first one I picked up was the Bourbon Mes, which has sauteed mushrooms, fried shallots, bourbon peach bbq sauce and swiss cheese.  Wow! This was a taste sensation, with a lot going on.
The shallots were like little frizzles on top of the burger, the bbq sauce was spicy and fruity, and the mushrooms added some depth of flavor and texture.  Extremely delicious, and a good sized slider.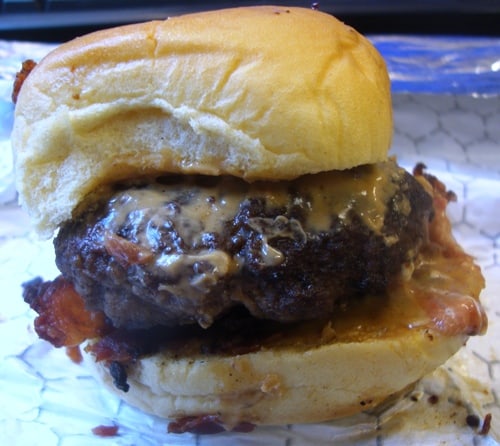 While the above is not my best photo, the Mini Nut was pretty crazy.  Creamy peanut butter and crispy bacon, what's not to love?  This slider was pretty tasty too – just make sure you have a drink handy.  You will need it.
You will understand the name of the last slider after I tell you the ingredients.  The Syc Fuk starts with roasted serrano chile cream cheese on the bottom, then the slider, and it's topped with a habanero strawberry glaze.  Creamy, sweet, spicy and fruity were all in there, along with a nice, meaty slider.  This was an interesting creation, and I mean that as a compliment.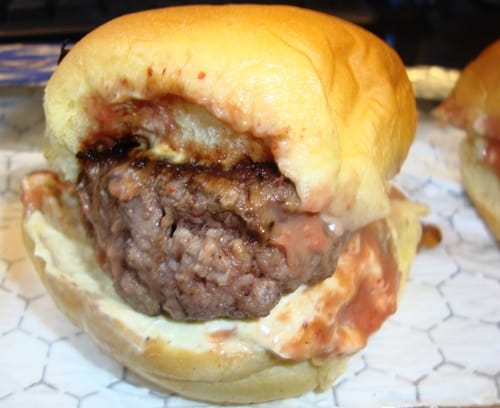 Today's Lunch from Feed Your Hole was excellent in terms of the toppings, although the doneness was all over the place.  The Mini Nut was a bit well done for my taste, the Syc Fuk was rare, and the Bourbon Mes was cooked to medium.
My main complaint with sliders is too much bread and not enough meat, but these sliders were thick, with a good meat to bread ratio – and the toppings were first rate.
The main problem was the waiting time.  People don't usually have a lot of time for lunch, so getting the serving times down is important to have people coming back another time.