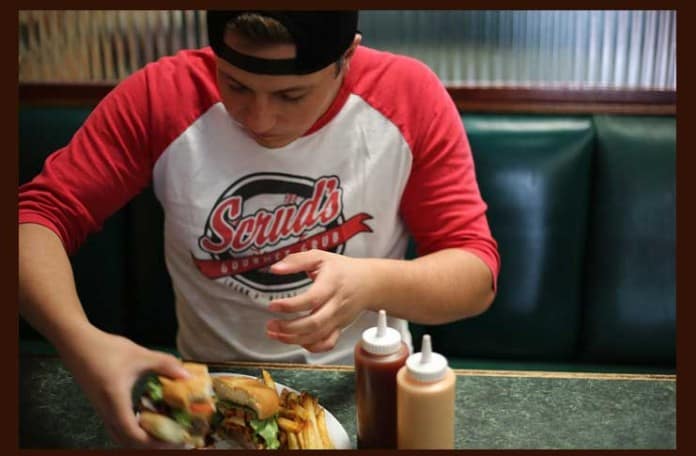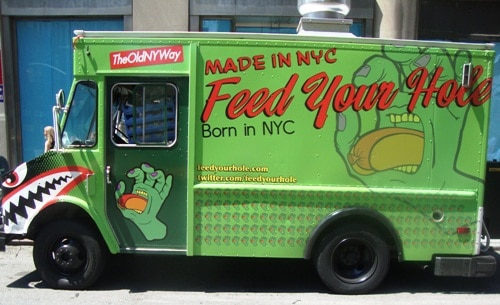 I saw on our Mobile Munchies twitter that Feed Your Hole was back on the street, and wanted to check out their new slider menu.  Sean has been telling me about the new sliders, and he was going to do a preview for friends and bloggers, but that didn't come to fruition.  He just took the new menu right to the street – so here's your preview.
Feed Your Hole was having some problems with their generator, which is why they were off the road for a bit.  Their new generator is much quieter and seems to be more reliable, so hopefully they will be on the street more often.
Today's Lunch was 3 sliders for $10, but I couldn't resist trying a Sloppy Weiner too ($4).  My impulse control is horrible at these trucks.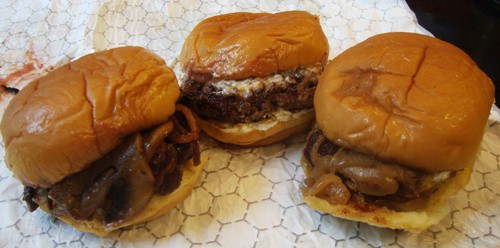 I started with the Bourbon Mes, which had sauteed mushrooms, lightly breaded and fried shallots, Swiss cheese and a bourbon peach BBQ sauce.
The mushrooms and shallots were the dominant tastes, and the bourbon peach BBQ sauce added a touch of fruity sweetness, which I would have liked a little more of.  I didn't really get much from the Swiss cheese, but the mushrooms and shallots were wonderful on the Bourbon Mes.
The Syc Fuk is an ambitious slider, with serrano chile cream cheese and a habanero strawberry sauce on top.  In addition to winning the Best Name award, this slider was creamy, spicy, and a little fruity from the strawberry glaze.  Interesting combination of flavors with a grilled beef slider, which stood up to everything just fine.
The last slider was the Cheddar Boss, which had cheddar cheese mixed into the meat, sauteed onions and a horseradish dijon mustard sauce.  It wasn't very cheesy, but the horseradish mustard really kicked up the flavor of the meat.  I really enjoy horseradish sauce on beef, and this was a great way to do it.
In all of the sliders, the meat had an excellent taste.  I've spoken to Sean about his meat (get your mind out of the gutter), and he takes real pride in the high quality of his beef (I warned you!)
The buns are potato buns, which are a little more substantial, and hold up to the thick sliders and all their toppings.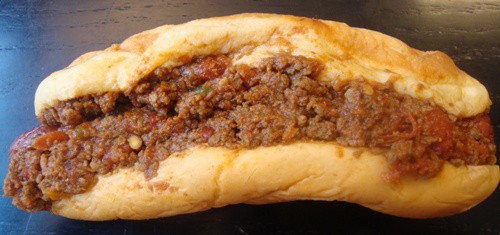 The quality of the beef at Feed Your Hole is one of the reasons I ended up getting a Sloppy Weiner, which is a Hebrew National hot dog topped with steak chili.
I've had the chili cheese fries from Feed Your Hole, and really enjoyed the sweet and tangy chili he put on the fries.  This chili was a little different. It was mostly meat, had a few beans, and there was some heat to it.  The chili on the fries was sweeter, and the chili on the hot dog was more savory.
Today's Lunch from Feed Your Hole was wonderful.  There are several choices on the NYC street for burgers and hot dogs, but Feed Your Hole has carved out a niche for themselves with interesting combinations and high quality ingredients.  With their new slider menu, you get to try two or three different types of burgers for the price of one big burger.  Now that's a good idea!
Next time, I want to try the other sliders, Le Bleu (bleu cheese) and Mini Nut, which has peanut butter and bacon.  Thankfully it comes in slider size, because a full sized burger with peanut butter and bacon could be called an Instant Heart Attack.