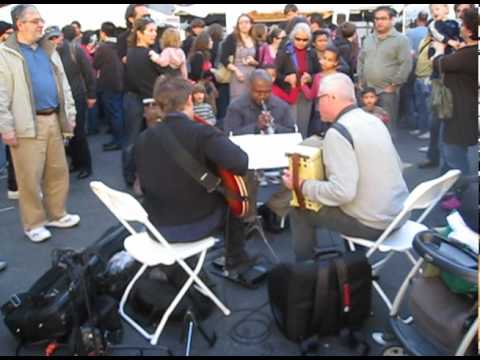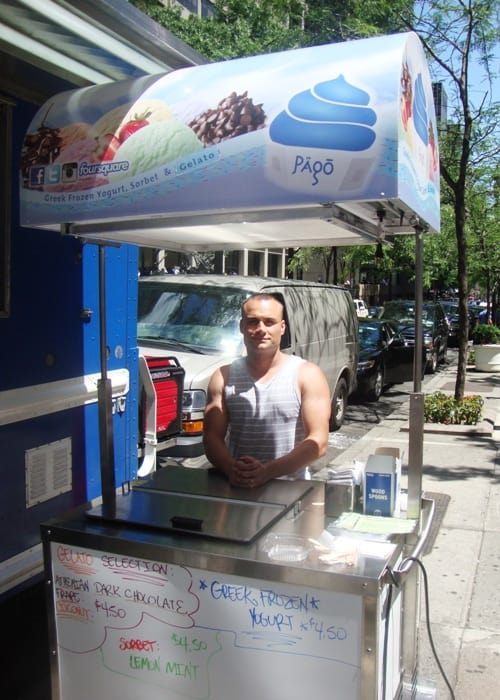 Yesterday was the debut of Pägσ, the new Greek frozen yogurt, sorbet and gelato cart.  For now it's parked right next to the Uncle Gussy's truck on the SE corner of 51st & Park, but Nick says it may leave the nest at some point and hit other neighborhoods.
There's room for 4 different flavors in the cart, and they will be rotating flavors and adding toppings as things progress.  Yesterday was only their first day.  BTW, Pägσ means "ice" in Greek.
Nick gave us a taste of the Greek frozen yogurt, which was creamy and refreshing.  It was good, but will be even better with some fruit on top.
Then I ordered a cup of dark chocolate gelato for $4.50 to get more than a taste.  In a word – delicious!
Dark chocolate is my favorite type of chocolate because it's not too sweet, and has a slight edge of bitterness.  Pägσ's gelato was a cold and creamy version of dark chocolate – not too sweet, but with a slight edge.  I wouldn't call it bitter chocolate, but it had more depth than milk chocolate.
Next time, I think I'll try the lemon mint sorbet.  That sounds perfect for the dog days of summer!