Searching for a truly authentic Italian Bakery in Manhattan? You've reached the right place. Masseria Caffe is tucked next to its sit-down, more formal sister restaurant Masseria dei Vini. Natural light lends itself well to the interior, full of marble and glass display cases housing an assortment of delicious pastries and savory items. 
We meet the owner, Vito, who is warm and charming and immediately makes you feel like you want to buy everything because he's so nice. I ask for a beverage recommendation; he suggests a latte. He immediately begins pulling an espresso shot and encourages us to peruse the pastries. Vito informs us that all their tarts and pastries are made in the basement laboratory next door, where everything is made by hand, nothing by machine. I am duly impressed. 
​The Beverages at Masseria Caffe​​
​I am not surprised by the quality of the latte. Neither too bright nor too bitter, with strong chocolatey notes, it is well suited to the oat milk. They use the Oatly barista blend, which has additional fat for improved stabilization and ​mouthfeel, contributing to a technically beautiful microfoam.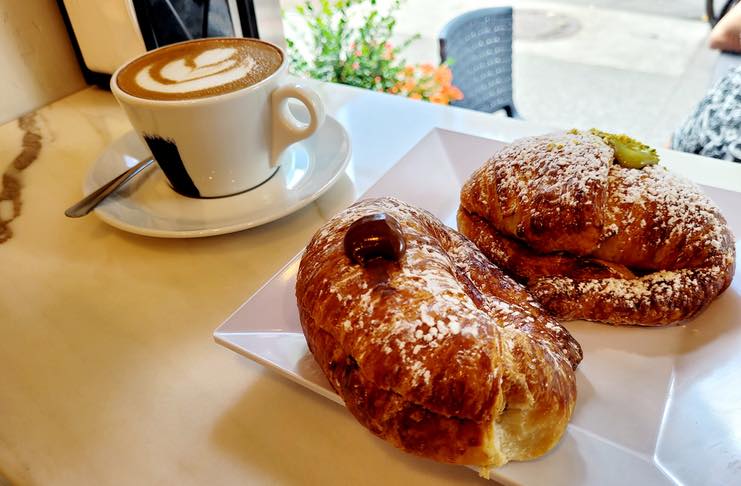 Vito is clearly no novice; he whips up some rosetta latte art like he could do it with his eyes closed (he probably can), and serves an excellent latte, enjoyed alone or with an abundance of baked goods.
The iced green tea is generously poured, and immediately gives off scents of peach and jasmine upon the first whiff. It is incredibly refreshing and, similarly to the latte, pairs wonderfully with any assortment of rich, buttery confections. 
​After creating the latte, ​Vito also begins to plate an assortment of small tarts and pastries for us to try once it becomes increasingly obvious that I could spend the entire afternoon attempting to make selections. 
​The Pastries
​We are prepared​ a magical feast – two nutty biscotti, a Frutti di Bosco mixed berry tart, a passionfruit meringue tart, a sfogliatella (lobster tail), and a pasticciotto leccesse with wild black cherry.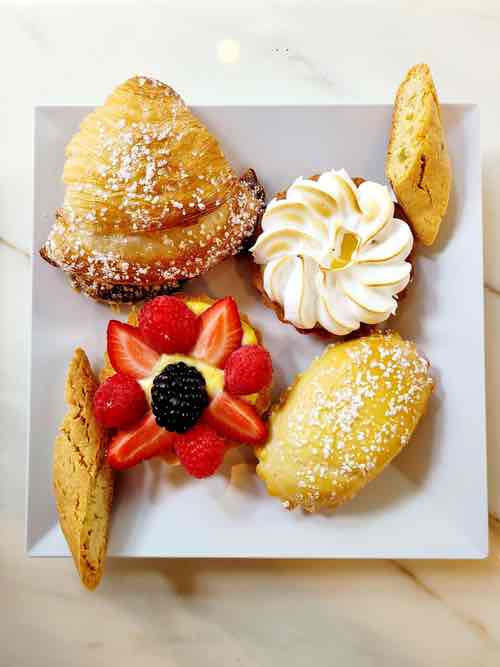 The biscotti are sweet and buttery and just on this side of not being too crunchy, with a generous nutty flavor. The sfogliatella is expertly and precisely layered to shattering perfection; the candied orange ricotta filling gives off a strangely nostalgic flavor reminiscent of bubble gum in the best way possible. 
Both tarts are delicious – the passionfruit is a burst of lemon meets grapefruit, crisp and sweet and topped with an almost daintily whipped meringue. The Frutti di Bosco tart is elegant and classic, with a luscious and not-too-sweet cream topped with blackberries, raspberries, and strawberries.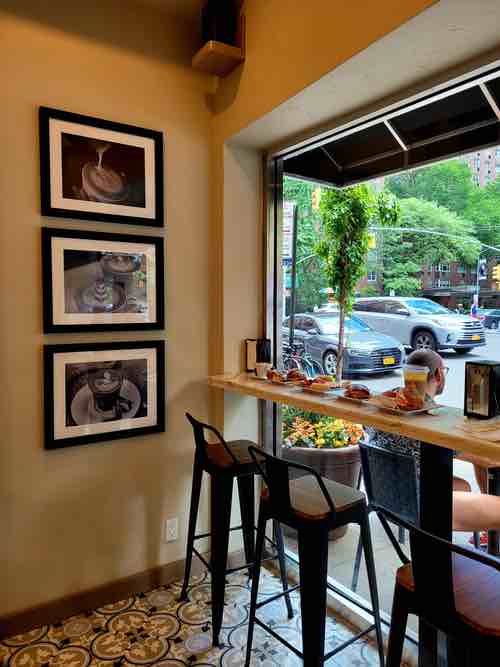 The tart shell, however, is a game changer – perfectly buttery and delicate to the point of almost falling apart but not quite, it provides the platonically ideal base for the richer and more resonant flavors that sit on top. 
Never Tried a Pasticciotto Leccese Before 
I have never before tried a pasticciotto leccese, which is a fact made transparently tragic the moment I bite into it. The short-crust pastry is filled with custard cream, similarly to the mixed berry tart, but is stuffed with a singular, impeccable wild black cherry. 
The pastry alone is wonderful – decadent from the butter, with a little more heft than the tart shell, and an extremely fine crumb, it melts on the tongue and the custard flavor is allowed to take over. The custard is silky smooth and eggy, with a slight vanilla aftertaste. At the center lies the wild black cherry, which is juicy and sweet and bleeds decadently into both the custard and the short-crust cake, subtly infusing it without being cloying or overly sweet. 
In fact, a surprising notion occurs to me as I sample each pastry (and then go back for seconds) –  none of them are too sweet, which is a common complaint I have for many baked goods. The intense flavors of bright fruits and earthy nuts lend the ideal complement to their otherwise incredibly rich pastry bases. 
Both cornettos – one stuffed with Nutella, the other with Sicilian pistachio cream, are nearly mind-blowing. The laminated dough is strikingly similar to that of a croissant, with beautiful air pockets being formed as the layers of butter tourrage and dough separate with heat. 
The fillings are delicious; the Nutella is, well, Nutella, and the pistachio cream is luxuriously rich. The singular note I have is that both fillings seem vaguely heavy for the pastry. I can't help but wonder if the same flavor was there but in a lighter, whipped form? Some of the intensity would be lost, but the incredible flaky texture of the pastry dough would now be complemented by a fluffy, cloud-like cream with the same flavors of chocolate hazelnut or pistachio. 
Knowing that we can, but probably should not, make a lunch solely out of buttery pastry goodness, we also decide to order some savory items. ​
Savory Bites
The pan brioche is stuffed with ​Italian ham and asiago cheese, and while I think the ratio of ham and cheese could have been switched, my eating companion is more than happy with the established entity and allows me a singular bite before demolishing the rest.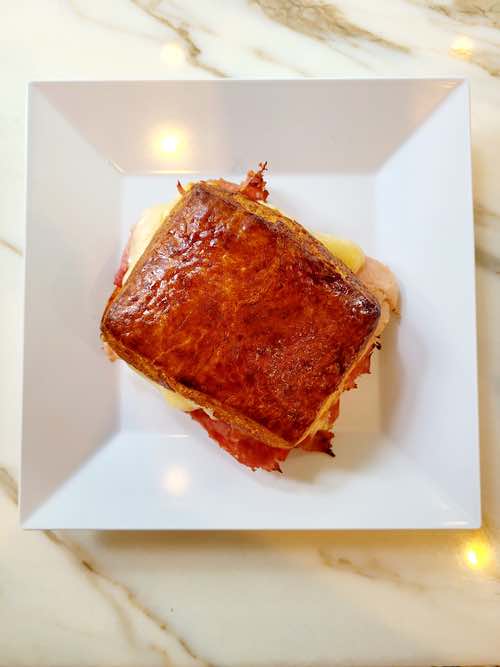 The pastry is not unlike the cornetto, but is square and more square, albeit losing none of its unctuousness and perhaps, in fact, being enhanced by its umami-rich fillings. We also order a panini caprese, with the bread being the perfect combination of crispy, dense crust and chewy, fluffy middle, while the house-made mozzarella is milky and creamy without being too conventionally smooth.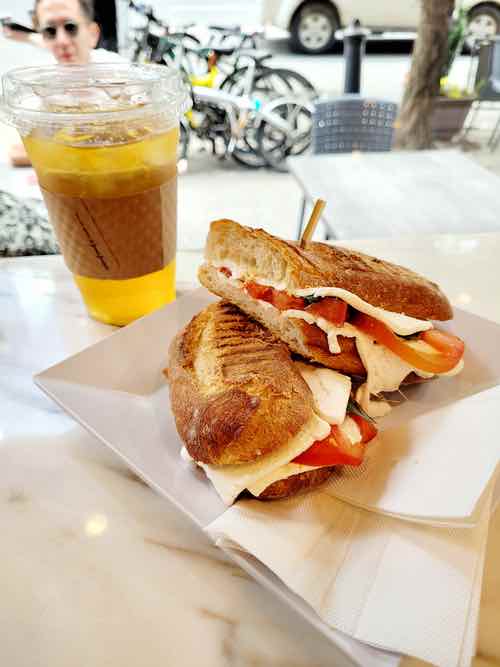 The Fire-Baked Pizzas
Sometime in the middle of this delectable feast, I see the restaurant next door bring in fresh, fire-baked pizzas. They look and smell delicious and I think nothing more of it until Vito asks us if we want to try a slice. (Excuse me, kind sir, but when would I ever say no to such a lovely and generous offer?)
There are three uniquely tempting choices – garden vegetable, Margherita, and sausage and broccoli rabe – but my eating companion is immediately drawn to the Margherita pizza. I have zero complaints; I find it to be a fair litmus test whose flavors do not overwhelm an assessment of dough quality.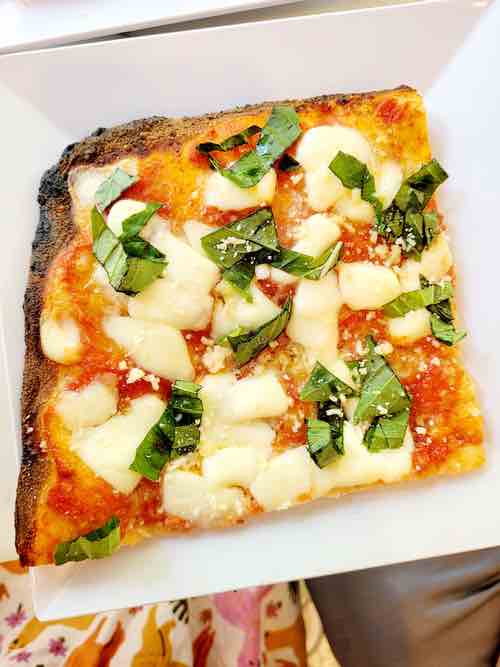 ​Vito proudly ​informs us that his pizza dough ferments for 72 hours before being fired in their wood-burning oven next door. After the first bite, I know he's not overselling it. The crust is marvelous. 
An absolutely perfect char on the bottom with no signs of being overcooked on the top, with more house-made mozzarella and a pizza sauce that is simple without being standard. It is rich, savory, more than a little smoky, and is lightened by the generous chiffonade of fresh basil. Glistening on top, of course, is the final touch – a drizzle of fine extra virgin olive oil, for a perfectly silky mouthfeel that is equal parts peppery, grassy, and golden. Ingredients that are good apart, but truly splendid together.
Overall Impressions
Masseria Caffe is not the first authentic Italian bakery in Manhattan. But this hardly seems to matter in the face of their undeniable quest for quality bread, cheese, and pastries. Almost everything is house-made, and the love and dedication to their culture and craft are apparent from the moment you walk through the door to that dazzling, euphoric first bite.
There is little to no monotony in their flavors, which run the gamut from heavy umami to light, custardy, fruity, and floral. I would not hesitate to recommend this Caffè to anyone, from anywhere. 
Follow them on Instagram! They have awesome pics of their dishes.
Three Best Bites
The tart shell from both the mixed berry and passionfruit meringue tarts.

The combination of flaky pastry, rich butter, and sumptuous cheese in the pan brioche. 

A massive ​tie between the short-crust magic of the ​pasticciotto leccese, ​​and the house-made mozzarella/fresh basil/olive oil combination on the pizza Margherita. 
Bathroom Corner
If you're really nice, Vito might let you use the bathroom at the​ir restaurant next door – it's clean, well-stocked, and right next to their wood-fired pizza dome, in case there's a queue and you're looking for something to aimlessly admire. 
Want to read more of our latest reviews? check out our review of this modern Korean Gem called 8282 or our review of El Cartel in Hell's Kitchen.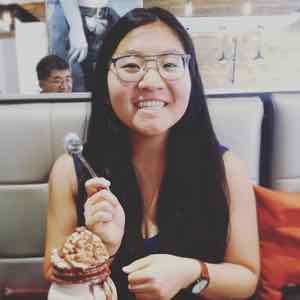 Katherine Chin was raised in upstate New York and grew up with the mindset that good food can, and does, exist anywhere. Now living and working around Manhattan, she spends most of her breakfasts pondering what she'll eat for dinner. She advocates for food that tastes good, and believes that sharing is caring – the best food is often eaten together. You can find her either walking or eating anywhere in Manhattan, when she's not planning her next food-centric adventure.