February 6th, 2012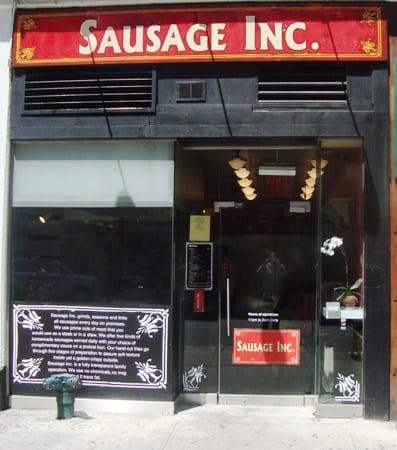 I spend a lot of time in the Union Square area, and when I'm in the mood for a nice fat, tasty sausage, a good place to go is Sausage Inc, a member of our Honorary Street Food category.  They are located at 106 University Place, between 12th & 13th St, where I stopped over the weekend.
They have 6 different types of sausages, a bunch of sauces, some sides and condiments, and seating for no more than 8-10 people, a strict requirement for our Honorary Street Food category.
The first time there we enjoyed what they suggested, a Farmer's Sausage.  This time we chose for ourselves and went for the Chipolata ($6 after tax).  I know it sounds like a new Starbucks drink, but it's actually a pork and chipotle sausage.