November 14th, 2011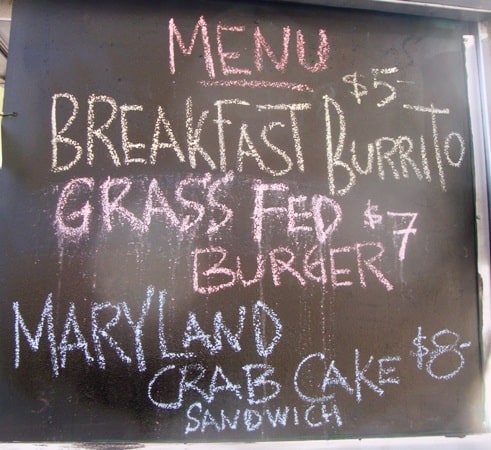 Over the weekend, we stopped by Eat Here Now Now Eat Here to pick up brunch.  They are on 16th St under the High Line from Tues-Fri, and are on Hudson St & 12th St on Sat & Sun.  The cart is open from 8am-4pm, which makes sense because one of their most popular dishes is a breakfast burrito, although they serve it all day.
I've previously enjoyed their breakfast burrito, but my wife never had one until Saturday.  She liked it as much as I did.  It has eggs, cheese, onions, poblano peppers, a mild hot sauce and some other stuff (like the tortilla you can see in the picture below).
The 2011 Vendy Award Finalist for Rookie of the Year has simplified their menu for a couple of reasons.  Stan told me that now he can work the cart by himself, and the menu revisions are designed to cut down the waiting times.
In addition to the breakfast burrito, Stan now has a grass fed burger, crab cakes and quesadillas.  He removed tacos from the menu, but you can get crab cakes in either a sandwich or in a quesadilla.