June 3rd, 2010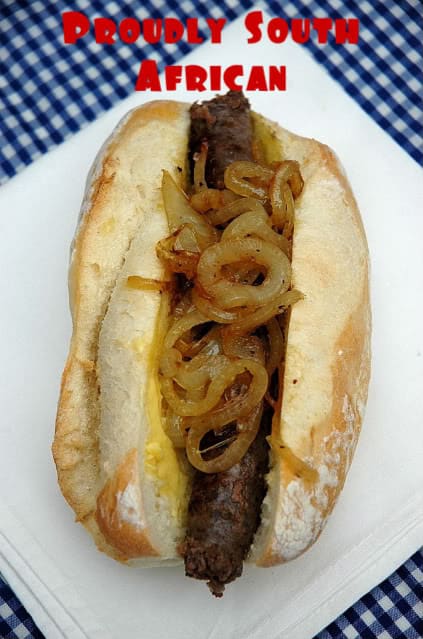 In honor of the 2010 World Cup, which begins on June 10th in South Africa, we will tell you the only word you need to know to get the best South African street food: boerewors.  It's served at nearly every sporting event, farmer's market or school event in the country.  It's about as close to a national dish as you can get.
Boerewors is pronounced "Boo-ruh-vors" and loosely translated it means "boere" – farmers and "wors" – sausage.  Boerewors is basically coarsely minced beef (sometimes pork and lamb is added) with spices such as coriander, pepper, nutmeg, cloves and allspice. The mixture is then stuffed into a sausage casing and grilled over an open fire, but you can also cook it on a gas grill, oven or in a pan.
The smell of boerewors on an open fire is loved by nearly all South Africans.  Once cooked, it is served on a roll with carmelized onions and chutney or mustard.  If you're going to the 2010 World Cup, you will find this South African treat sold by many street vendors.
Another traditional street food in Johannesburg is pap en vleis – corn meal and meat – but you may want to avoid that because according to reports, the chicken isn't slaughtered very hygienically.
You'll probably also see sheep's heads during your stay – eat it with lots of salt if you're brave enough.  Otherwise stick to vetkoek (fried cakes), available on many inner-city street corners, or the previously-mentioned boerewors.
If you're in Durban, there is another good street food option.  Since Durban has the country's largest Indian population, you may want to try a "bunny chow" – Durban street food made up of half a loaf of hollowed-out bread filled with hot curry.  We previously mentioned bunny chow in our article on World's Fare, the Los Angeles bustaurant owned by Travis Schmidt, a South African.  World's Fare serves several types of bunny chow.
We may not make it to the 2010 World Cup in South Africa for boerewors, but will certainly be watching a lot of the matches.  USA! USA!