March 27th, 2013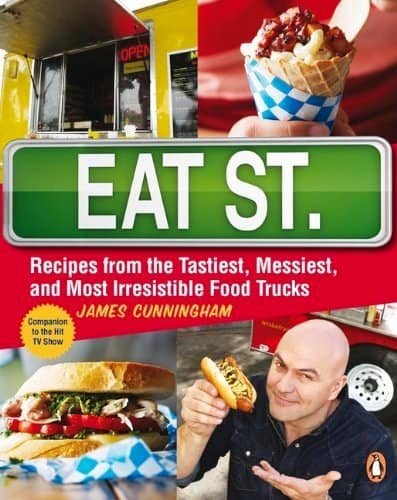 We're big fans of Eat St, the Canadian show that's on the Cooking Channel all the time. And it's not only because we've been on the show three times (and have two more in the can).
We love our job eating NYC street food every day, but James Cunningham, the host, gets to eat from the best food trucks all over the US, Canada and the UK.
If you've ever watched Eat St. and said, "I would love to make that dish at home", now you can. The Eat St. cookbook features 126 recipes from the food trucks featured on the show's 4 seasons, including a bunch of your favorite NYC street vendors.
We even got a shout-out from Sean of Feed Your Hole in the photo below, which is on the book's Table of Contents page. Thanks buddy.
Click through to get a sampling of the recipes included in the book, both from NYC and other food trucks. There is also a link to buy the book, and we will be giving away 1 copy to a lucky NYSF reader in or latest contest.