June 7th, 2011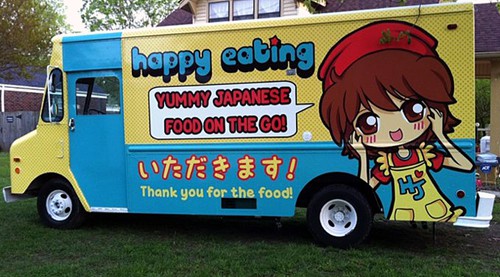 One of the more striking food trucks we've seen lately is Happy Eating in Nashville, which is painted in the popular Japanese anime style.
Steve Haruch from Nashville Scene recently stopped by and I got to sample their take on Japanese street food.  He got the daily special, which was "rice burgers".
Contrary to the name, they are not burgers made of rice, but two slider-sized beef patties, garnished with pickled daikon and wasabi sauce, and set between a set of rice wheels to form a sticky, meaty treat.   They also came with a serving of sweet potato fries, which were lightly dusted with a curry powder of some sort, plus some wasabi mayo for dipping.   Steve gives several thumbs up to both.
He also ordered a few other dishes.  Click through for the rest of his report, and a copy of the menu.