April 8th, 2011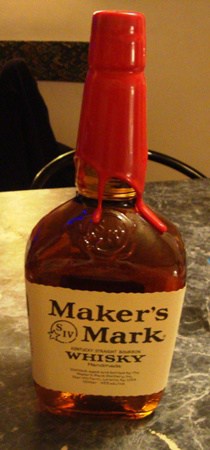 We were recently given a bottle of Maker's Mark bourbon, and thought it would be a good way to dust off the old Friday's Recipe feature.
For a while, we were posting recipes every Friday for you to try over the weekend – but pretty soon, we started running out of recipes.  We featured recipes from other people, but there are so many recipe sites out there, we started losing focus, and ended the feature.
After speaking about it with my wife, who shoulders the Friday's Recipe burden much more than I do, we decided to make it an intermittent feature which will be posted when we have something interesting to share.
We have some excellent recipes using bourbon with steak, pork, sweet potatoes, and a few other foods.  But since we just got a brand new bottle of Maker's Mark, and had chicken in the house, my wife wanted to come up with a new recipe from scratch.  And boy did she ever!
Friday's Recipe is Sweet Bourbon Glazed Chicken with Maker's Mark.