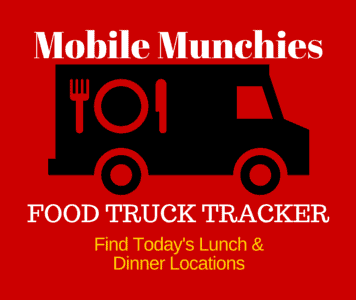 Welcome to Mobile Munchies for June 10, 2015.
Below is the list of trucks and carts that have self-reported their location this morning.
You should still check the Twitter feed of the specific truck you plan to visit in case there is a last minute change.
Don't see your favorite food truck, then Tweet the message below to them.
Hey [@yourfavoritefoodtruck], you guys need to get on the @nystfood #MobileMunchies food truck tracker!
Simply insert the Twitter handle of your favorite food truck into the above filed after you click the button to communicate to that specific truck.
NAME

CUISINE
TYPE

LUNCH
LOCATION

LUNCH
HOURS

DINNER
LOCATION

DINNER
HOURS

Italian Ices/Smoothies
& Espressos

32nd and park ave

11:30-5

Union Square

5:30-9

​

Taiwanese Cuisine

53rd & Park

1130-230

No Service

No Service

​

Asian Fusion (Korean BBQ,
Thai & Vietnamese)

Midtown West - 50th Street btwn 6th and 7th Avenue

11-2:30

No Service

No Service

​

Asian Fusion (Korean BBQ,
Thai & Vietnamese)

Midtown East - 53rd Street and Park Avenue

11-2:30

No Service

No Service

​

Bobjo (cart)
| | T | |

Korean Fusion

Stone & Hanover

1030-3

No Service

No Service

​

Mediterranean/Moroccan

36th St @ Broadway

11-3

No Service

No Service

​

Desi Express
| | T | |

Indian

Pearl St & Hanover Square

11-4

No Service

No Service

​

Asian Taqueria

Hudson & King

1130-230

No Service

No Service

​

Mexican-American Fusion

N East 52 & Park Ave.

All Day

N East 52 & Park Ave.

All Day

​

First Banh Mi
| | T | |

Vietnamese Sandwiches

Stone & Hanover Square

11-3

No Service

No Service

​

Korean-Mexican Fusion

No Service

No Service

No Service

No Service

​

Souvlaki

31st Street and 31st Avenue Astoria, Queens

9 am - 11 pm

31st Street and 31st Avenue Astoria, Queens

9 am - 11 pm

​

Deli Sandwiches

46th St./6th Ave

11-3:00

No Service

No Service

​

Mexican Cuisine

46Th btw 6th and 7th ave

11:30-2:45

No Service

No Service

​

Kielbasa & Pierogis

46th bw 5th & 6th

11-2:30

No Service

No Service

​

Philly Cheesesteaks

55th and Broadway

11-3

No Service

No Service

​

Fusion Falafel

50/ 6-7th

11-3

No Service

No Service

​

Israeli

FIDI- Hanover Sq

11-330

No Service

No Service

​

Thai & Vietnamese

Broadway btw 39 & 40th

11-9

Broadway btw 39 & 40th

11-9

​

Thai & Vietnamese

Dumbo-Jay and water

1130-3

No Service

No Service

​

Shaved Snow Dessert

700 8th Ave. (City Kitchen)

11-9

700 8th Ave. (City Kitchen)

11-9

​

American

USS Intrepid 46th St. and 12th Ave

11-3

USS Intrepid 46th St. and 12th Ave

3-5

​