Sad Tweet: Schnitzel & Things Closing Their Store Today :(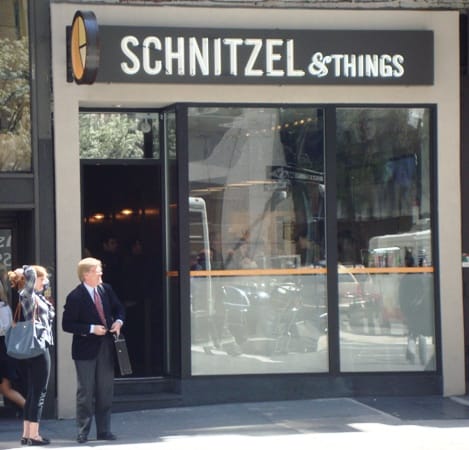 Last night we saw the saddest tweet in a while. Schnitzel & Things tweeted: "sadly we are indeed closing the store:( we will provide a more detailed explanation in a blog post that we'll put up later."
While we haven't seen the blog post yet, they recently had problems with pipes bursting at the store, which caused a lot of damage. That may have something to do with it. For the record, the S&T store opened just under 2 years ago.
Oleg told us the S&T truck will still be on the street. No changes there. Whew!
Schnitzel & Things was the very first food truck we ever tried, back in the Summer of 2009. If they sucked, we might not have created New York Street Food. Luckily, we were blown away, decided to seek out other food trucks, and 3 years later, here we are.
We will miss the S&T store, which we stopped into a few times when in the area. Word is they might reopen in a different location. We will let you know when we hear something.
The S&T blog is here if you want to keep track yourself.