LIQUOR LICENSE GRANTED TO PERA TURKISH TACO TRUCK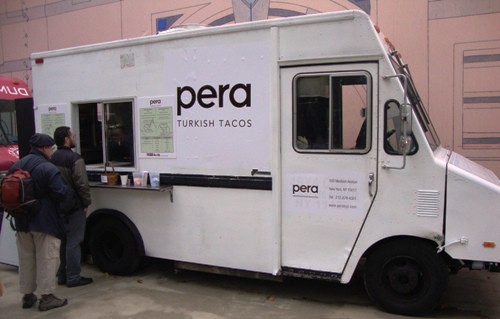 The Pera Turkish Tacos truck at Tavern on the Green is the 1st food truck in NYC to be given a liquor license by the NYS Liquor Authority.   By next week, Pera's Turkish Tacos will offer beer, wine and cocktails (vodka, rum, gin, tequila and whiskey based, including frozen options) during regular operating hours.
But don't think about taking your drinks into Central Park.  Consumption will be limited to the truck's assigned seating area in the Tavern on the Green Food Truck Terrace, which is located just south of the intersection of W. 67th Street and Park Drive in Central Park.
"We are honored to have been granted this singular, precedent-setting privilege by the State Liquor Authority and the New York City Department of Parks and Recreation.  It will add a vitalizing new dimension to the Tavern on the Green Food Truck Terrace experience, one that is already being energized by the just launched The Scene at Tavern on the Green entertainment program," notes Burak Karacam the owner of the Pera Turkish Taco Truck and its parent establishment, midtown's popular Pera Mediterranean Brasserie.
Pera Turkish Tacos won a one-year license (with an option for a second year's renewal) from the New York City Department of Parks and Recreation to operate at Tavern on the Green.  With the support of the Parks Dept, Karacam became New York City's first food truck operator to apply for a liquor license in March after making an appearance before Community Board Number 7.
We really enjoyed their food. So, what drinks go with lavender & honey roasted chicken on lavash bread, smoked lamb on a zucchini pancake, and grilled spicy shrimp with sumac and tomato?  Suggestions in the comment section, please.