GO BURGER OPENING A KIOSK ON WEST 38TH
Food Truck Locations Emailed Daily
LOOKING FOR FOOD TRUCKS?
Tired of searching Twitter for locations of individual food trucks?
Tired of outdated or inaccurate apps?
Want a list of food trucks and their locations in one simple, easy to find location?
Get on our free email list and we will send you location information about many of the food trucks in the area.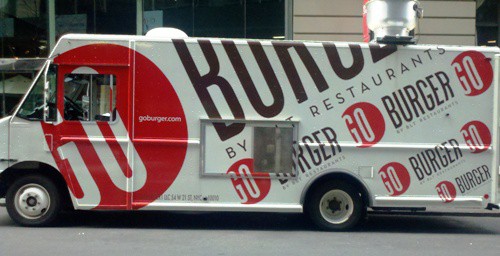 We saw a tweet from GO Burger yesterday that said "Have you heard?! We're opening a GO Burger Kiosk @CasaNonnaNY! See you this Thursday at 310 W. 38th St!"
A little research, and we found more details about it on Zagat Buzz.  Next door to Casa Nonna will be a GO Burger kiosk that will be serving the truck's menu.  (In case you're wondering, both restaurants are owned by the same corporate parent.)
Lunch is available Monday–Friday from 11:30 AM–2 PM; dinner on Monday–Thursday is served from 5:30–10:30PM, on Friday & Saturday from 5:30–11:30 PM, and on Sunday from 5:00–10 PM.
Their burgers are great, but we're kind of partial to their Kobe beef dogs.